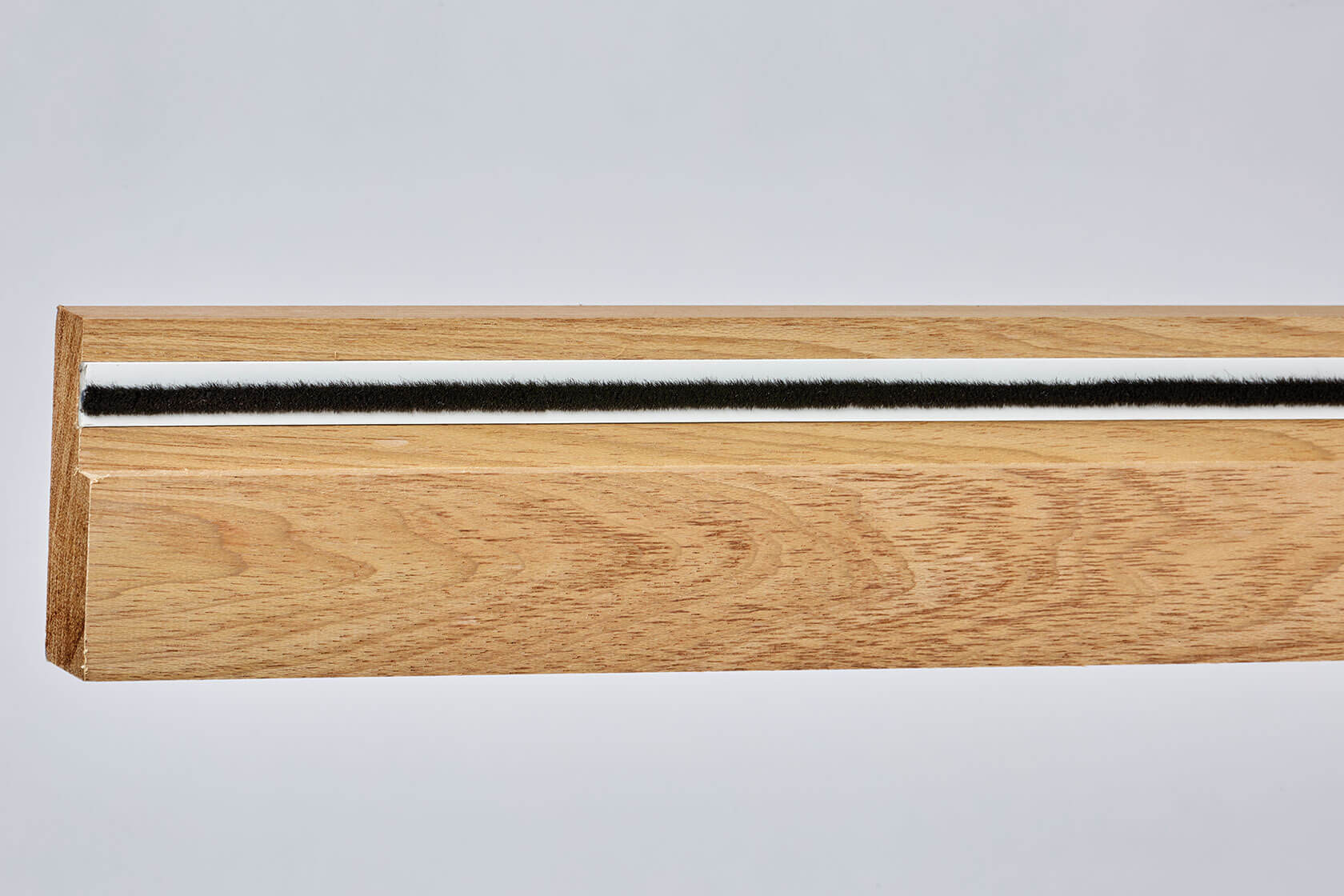 Do Fire Doors Require Intumescent Strips & Smoke Seals?
What makes a fire door a fire door? There are numerous factors that allow a fire door to keep harmful flames and smoke at bay in the event of a fire. For instance, a fire door is typically thicker than an equivalent internal door. While most internal doors are 35-40mm in thickness, fire doors are 44mm thick. What's more, glazed fire doors will use a special glass made from ceramic or borosilicate. But the efficacy of a fire door isn't just due to its construction. It's also due to the intumescent strips that run along the door's circumference. These are an important feature in a fire door 
Here, we'll look at the role of intumescent strips and smoke seals in preventing the spread of fire. 
What are intumescent strips?
An intumescent strip is a rubbery strip that is added to the door leaf and / or door frame. It is soft and smooth to the touch, and can be seen running along the edges of a fire door leaf. When this strip is exposed to extreme heat, it will expand to form a tight seal around the door. 
They are invaluable in keeping the fire contained, as well as preventing heat and smoke from seeping through tiny gaps between the door leaf and frame. They are designed to keep the fire at bay for a minimum of 30 minutes.
In most domestic properties, this is ample time to ensure a safe exit from the home and contact the fire service. 
How do intumescent strips work?
The secret of intumescent strips is in their chemical composition. Intumescent seals are made from a combination of synthetic polymers and resin binders such as epoxy or silicone. These ensure that the strips will not be damaged by heat, and that they will expand to ensure that extreme heat and flames are not allowed to permeate the door frame. They are designed to expand when the ambient temperature reaches around 200°C. This is usually about 10-15 minutes after the fire has started. 
What are smoke seals?
When a fire breaks out, it's important to prevent the spread of the flames throughout the property. Nonetheless, it's vital to note that smoke is every bit as deadly as the flames. Smoke inhalation can starve the brain of oxygen, leading to loss of consciousness and even death.
As such, preventing the spread of smoke is an essential function in a fire door. 
Smoke seals, also known as cold smoke seals, are placed between the door leaf and the door frame at all sides to prevent smoke from permeating through the door frame. Some smoke seals are designed to be wiped down easily for improved hygiene, and are usually used in hospitals, schools and private businesses. 
How do smoke seals work?
Smoke seals are typically made from nylon or neoprene and have a fuzzy, brush-like texture. This prevents particles of smoke from permeating the few millimetres that are usually between the door leaf and frame. These seals can also be useful for keeping out draughts within the home. 
What's the difference between intumescent strips and smoke seals?
Unlike intumescent strips, smoke seals do not expand upon contact with heat. They are also always visible, protruding from the frame while intumescent strips are flush with the surface of the door leaf. However, a smoke seal is positioned in the same places as an intumescent strip.
Intumescent strips and seals also differ in function. An intumescent strip is primarily designed to contain fire. It expands when heated to ensure that the fire does not impinge upon emergency exit areas. A cold smoke strip, on the other hand, is designed specifically to prevent smoke from seeping into the rest of the home. 
Can intumescent strips and smoke seals work together?
Yes. Cold smoke seals and intumescent strips can and do work together to offer superior fire protection. 
Are intumescent strips and smoke seals requirements for UK fire doors?
There is no specific requirement for smoke seals or intumescent strips to be used on a fire door as long as they meet a certain standard. According to the British Standard 476 fire safety standards, however,  most fire safety doors are smoke sealed (known as S-type doors). 
Fitting a fire-rated door with intumescent strips and / or intumescent strips will help the door meet these required standards. 
A fire door must be able to limit smoke leakage to a rate of 3 cubic metres of smoke through 1 metre of door edge per hour. In order to meet this requirement, a fire door may use intumescent strips, cold smoke seals, or a combination of both. 
Which fire doors require intumescent strips?
Intumescent strips are usually required for fire-rated doors. The British Woodworking Federation's fire door scheme grades fire doors based on how long they are able to keep smoke and flames at bay. 
The ratings are as follows:
These doors are designed to keep the fire at bay for between 30 minutes and 120 minutes respectively. Intumescent strips are typically used in FD rated fire doors to contain fires within these timeframes.
How do I fit intumescent strips?
Surface-mounted intumescent strips are easy to attach to fire-rated doors if yours does not have them already. Simply carry out the steps below:
Clean the frame with a damp cloth to remove dirt and grease and ensure adhesion

Measure the height of the fire door, and cut the smoke seal strip to fit accordingly (remembering to account for the position of the lock)

Make sure you can open and close the door with the seal in place before applying adhesive

Remove the adhesive backing and mount the strip door's hinge side. Strips can be placed over the hinges themselves

Apply a little pressure to ensure that the intumescent seal is fully fitted
Take a look at our FD30 rated fire doors
At Doors & More, we're proud to stock a great range of FD30 rated fire doors from some of the UK's most trusted manufacturers. Take a look at our selection for reassuring fire safety without compromising on style.