Pre-Hung Door Sets
Doors & More are able to supply pre-assembled door set kits from a range of manufacturers including Climadoor, Deanta, XL Joinery, Jeld-Wen and Premdor.
Our door set range includes internal, fire door and external sets, with a PAS24 option for secure internal doors in multiple occupancy buildings. We have both real wood and paint grade options, along with moulded or solid core designs.
There are numerous benefits of a pre-hung door and frame set:
Ease & speed of installation: Being pre-assembled, it's much quicker and easier to install a door set, with less skill required as the frame can be simply screwed in to the opening.
Energy efficiency: The factory assembly of door sets means they have a close fit, reducing drafts and offering better insulation.
Compatibility: Coming pre-assembled as a single unit, a door set naturally functions well as the door and frame fit perfectly together.
Security: Correctly installed, doors sets can provide better security as it is harder to force the door or break the frame.
Better finish: By design, door sets have a cohesive look and finish, ensuring perfection wherever they're installed.
Simply complete the form below for a free door set quote.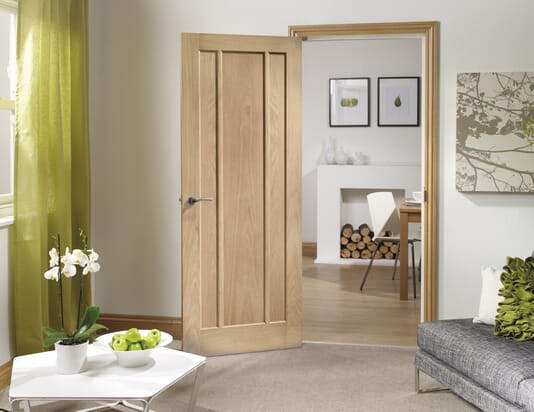 Door Sets: Enhancing Security and Safety
Door sets play a crucial role in ensuring security and safety in both internal and external spaces. They provide strength, durability, and aesthetics, while also meeting specific industry standards and regulations.
Internal Door Sets: Internal door sets serve as a critical element in separating different areas within a building and ensuring privacy. They are available in a variety of designs, materials, and finishes to match the overall interior aesthetic. Internal door sets are engineered to provide sound insulation, privacy, and ease of operation.
External Door Sets: External door sets are the frontline defence against unauthorized access and provide protection against harsh weather conditions. Along with providing security, these door sets also contribute to the visual appeal of the building's exterior. External door sets are typically more robust and weather-resistant to withstand outdoor elements.
PAS24 Door Sets: PAS24 is a UK standard for enhanced security performance and fire safety requirements for internal & external windows and doors. PAS24 door sets are rigorously tested to resist against forced entry attempts, such as drilling, wedging, or ramming. PAS24 door sets are often used in residential and commercial buildings to deter burglars and maintain the safety of occupants. They are designed with reinforced frames, multipoint locking systems, and anti-drill cylinders, providing an extra layer of security. Our PAS24 door sets are intended for internal use in multi-occupancy buildings such as entrance doors for flats and apartments. Full details of the PAS24 standard can be found on the BSI website.
Fire Door Sets: Fire door sets are specifically designed to prevent the spread of fire and smoke within a building, providing occupants with enough time to evacuate safely. These door sets are tested to meet strict fire resistance standards, such as BS 476 and EN 1634. Fire door sets are equipped with intumescent seals, fire-rated glazing in glazed doors, and optionally self-closers, ensuring they effectively compartmentalize an area during a fire incident. It is imperative to follow fire safety regulations and inspect these door sets regularly to ensure their effectiveness. You can learn more about fire doors here.
Door sets are essential components in ensuring security and safety in both internal and external spaces. The PAS24 standard helps enhance security performance, while fire door sets provide crucial fire resistance. Whether it's for protecting assets or safeguarding lives, choosing the right door set is vital for creating a secure and safe environment. Please consult us for specific needs or requirements, including current regulations.