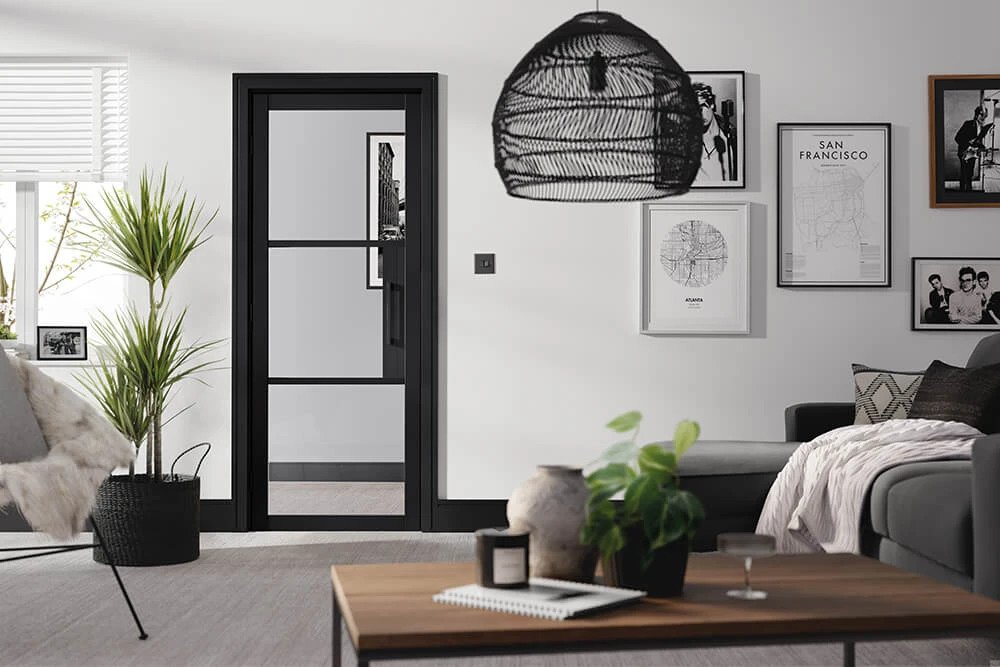 Internal Door Trends to Look Out For in 2022
Your internal doors play a pivotal role in your interior design concept. And while interior design trends come and go, your internal doors are built to last for years to come. Needless to say, none of us expects to change our internal doors whenever a new trend comes along. Nonetheless, if the time has come to replace your internal doors, keeping an eye on the latest trends can provide inspiration and help to revitalise your interior decor.
Here, we'll look at some of the internal door trends that will define 2022 so that you can find the perfect look for your home. 
Interior door style trends in 2022
At Doors & More, we're proud of our eclectic selection of internal doors. The material and finish of a door can play a substantial part in its look and feel. However, we also carry doors in a huge selection of different styles. From elegantly simple shaker doors to ornate styles that invoke bygone times, we have internal doors to suit all tastes. 
So, which styles are trending in 2022? Let's take a look.
Minimalism
When in doubt, keep it simple. That's largely the ethos of today's internal design trends. Minimalist designs help your internal doors to fit more seamlessly into your interior aesthetic, drawing the eye away from themselves and towards statement furniture pieces or artworks. 
Some may choose to paint the door leaf the same colour as the walls, while others may choose to celebrate the humble beauty of the wood grain with a prefinished door like the Augusta oak door from Deanta. Alternatively, if you're looking for a painted internal door, take a look at the stunning Blanco door from JB Kind. 
Tall and wide
While minimalist styles may be en-vogue in 2022, people still want their doors to make a statement. As such, taller and wider doors have become very popular in 2022. Taller internal doors can make rooms with low ceilings appear taller and more spacious, helping the walls to look higher, thereby creating the illusion of space.
Likewise, wide and double doors can add a dramatic flourish to your living space. Dual leaf doors like French doors are extremely popular, drawing the eye and creating a more luxurious transition between spaces. French doors can also be accentuated by adding lights at either side. These are glass panels that allow more natural light into your living space and enhance the dramatic effect of your french doors. 
Let there be lights
Minimalist aesthetics have been popular for a number of years now. We're discovering the value of showing more by showing less, enjoying serene and clutter-free environments that are accentuated by statement furniture pieces, subtly-designed doors and ample natural light. As such, glazed doors are increasingly popular. These can flood your living space with natural light and enhance the effect of a minimalist interior design concept.
If you're looking for internal glazed doors with ample glass panels (in the industry we call them 'lights'), we have you covered at Doors & More. Take a look at this Pattern 10 fully finished oak door from Climadoor, with a single clear glass light that fills the frame. Or perhaps this 4 light oak shaker door with frosted glass. Frosted glass helps to diffuse the light that enters your living space for a more subtle effect, while also preserving your privacy.  
Space-saving
Big bold statement doors are very much in fashion in 2022. But not every home is necessarily conducive to this effect. In homes where floor space is limited, French doors may prove problematic. The good news is that space-saving doors are also extremely popular at the moment, enabling you to achieve a dramatic look without needing to rearrange your furniture every time you want to open your internal doors. 
Pocket doors are very fashionable. These are sliding internal doors that slide in and out of a cavity within the wall. Bi-fold doors are another excellent space-saving option. These have a hinge in the middle of the leaf, enabling them to be folded in on themselves. 
Interior door colour trends in 2022
Sometimes, a splash of colour is enough to revitalise your existing doors, without the need to replace them with a new door in a different style. If your door is already primed, a splash of paint may be all it takes to make your doors look and feel brand new. But what are the interior door colour trends that will define 2022? These include…
Neutral
Neutral shades are very popular this year. That said, because they go with virtually any aesthetic and interior design concept, neutral shades are never likely to go out of fashion. Neutral colours are calming, soothing and unobtrusive. Perfect for those who want their internal doors to subtly complement their design. 
Think soft greys, creams, beige or even a sage green.
Dark classics
If you're looking for a timelessly elegant look, classic dark colours may be the way to go. Black will never go out of fashion, although mahogany or dark chocolate browns are also a great choice. For instance, you may want to choose a rich dark walnut internal door if you would like a natural dark wood that requires no painting. 
Bold choices
If you've never been one for subtlety, the good news is that bold and vibrant internal door colours are also en vogue in 2022! Boldly-coloured internal doors can make the other colours in your interior design concept pop. Think rich royal blues, emerald greens, canary yellows or even coral pinks. 
Interior door hardware trends 2022
The right hardware can add an extra flourish to your internal doors, enhancing their look and tying the interior aesthetic together. Which is why we carry a great selection of door handles and hardware to add the perfect finishing touches to your interior door's look. 
When it comes to door handles, antique brass adds a touch of timeless elegance to virtually any door, while brushed steel is still a great choice for those who favour contemporary aesthetics. Long, slender and boldly-designed door handles are all the rage right now, and can add a touch of dramatic impact to your interior doors.  
Find your new internal door for 2022 with Doors & More
Are you ready to add the perfect finishing touches to your interior? Take a look at the most stylish models of 2022 with Doors & More. We bring you an eclectic range of internal and external doors from some of the UK's most trusted manufacturers including Deanta, Climadoor, JB Kind, LPD and more. Our expert team is standing by to help you find the perfect internal doors in 2022.