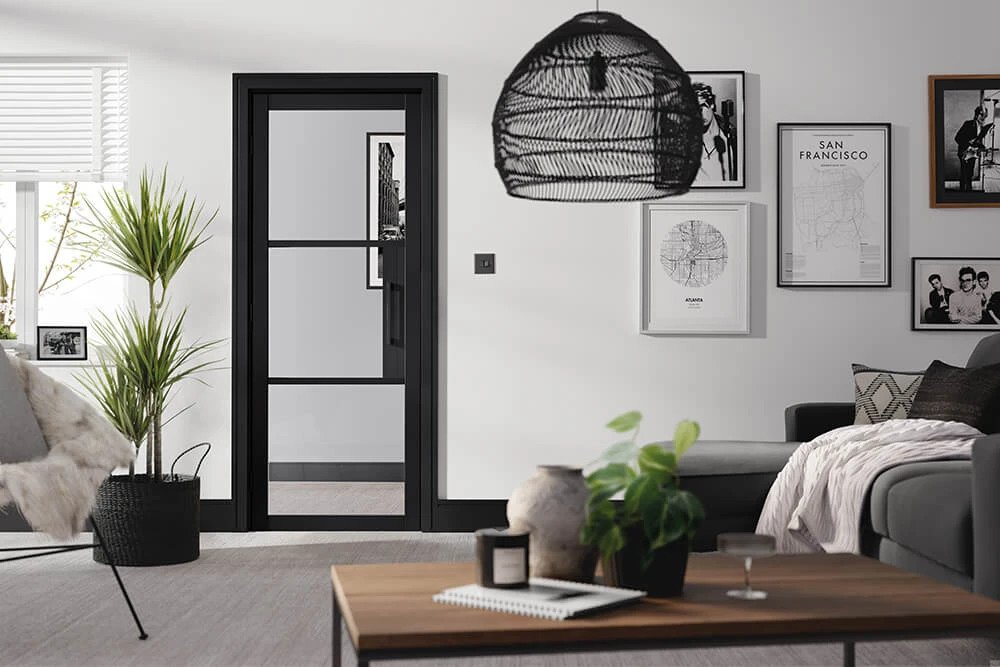 How To Decorate Your Home With Painted Interior Doors
Your interior doors are so much more than a way to get from one room to another. They keep you warm and help to reduce your heating costs on chilly days. They block out unwelcome sounds and grant you privacy. And they can also enhance the interior design concept of your home. There are some that prefer to varnish their doors to let the natural beauty of the wood grain shine through. However, there are also many that prefer to add colour, definition and personality to their internal doors with a lick of paint.
At Doors & More, we're proud to stock an incredible range of white primed interior doors. These can be painted in a wide range of colours before being hung. You may want to stick to classic white, or you may want to opt for something a little bolder.
Here, we'll look at how to add an extra flourish to your interior decor with painted internal doors.
Should all your internal doors match?
Many wonder whether all of their internal doors in the home should be the same colour. While doing so can certainly create a nice sense of flow around the home, you are not necessarily beholden to one door colour for the whole home. Indeed, there may be some rooms in which it's best to use a different colour to better match the room's aesthetic. Or you may want to use a feature colour to make an internal door in your living space really pop. As long as they match the overall colour scheme of the room, don't be afraid of using mismatched door colours.
Nonetheless, it's usually a good idea to keep your internal doors the same colour in hallways and other areas where flow is important. Don't forget that you can always paint the opposing faces of your internal doors in different colours.
Should you match your doors to your wall colour scheme?
Should the architraves / trim match your painted internal doors, or the walls surrounding them? It's a hotly debated topic. And while it may not be the most satisfying answer to give the honest answer is… well, it depends.
If you want to draw attention to the door itself, it's best to match the door trim to your wall colour scheme. This will draw the eye to the door and create a starker visual contrast. However, if you want to create a more cohesive look, you may want to match the colour of the architraves to the colour of the door itself.
Alternatively, painting your architraves white can enhance the contrast in colours between the walls and doors to create a rather striking appearance. If a room has limited space, painting doors and trims the same colour as the walls can help it to appear larger and improve its sense of flow.
What hardware to use for painted internal doors?
Door hardware like handles, locks, latches and even hinges can also enhance the look of your painted internal doors. These are available in a huge range of styles and colours. So many, in fact, that choosing the right colours to match your doors can become a real head-scratcher.
Chrome is a good choice for white internal doors while a brushed nickel finish adds a touch of contemporary class to your doors. If you opt for a matt black interior door, on the other hand, a satin brass makes for an elegant pairing. Polished brass is also a good choice for red, blue or green doors.
Black chrome hardware is a good fit for white and grey doors, and can also pair well with varnished wooden internal doors.
What colour internal doors should you choose?
With so many paint colours to choose, you could be forgiven for taking your time choosing the right colours for your internal doors.
The right colours depend on a range of factors including:
The existing colour scheme of the room
The size of the room
The intended use for the space
How much natural light is available in the space
Other objects in the same space (e.g. furniture or wall art)
Your own personality and taste – some are perfectly at home with bold and vivid colours while others find these distracting and prefer subtler hues
By and large it's best to match cool or warm colours with other cool or warm colours. Mixing cool and warm colours can create jarring clashes.
Avoid bold, bright or vivid colours for spaces like bedrooms where the purpose of the space is relaxation. However, these colours can add a touch of cheer to areas that don't get much natural light.
If in doubt, keep it simple. Opt for subtle and natural tones like whites, cool greys, matt blacks or muted greens or clay reds.
Unleash your creativity with Doors & More
A white-primed door can be a fantastic canvas on which to unleash your creativity. If you want to add a bold new flourish to your home's interior, take a look at our huge range of internal painted doors including white primed, grey and black internal doors. We also offer a great selection of white-primed French and bifolding interior doors.