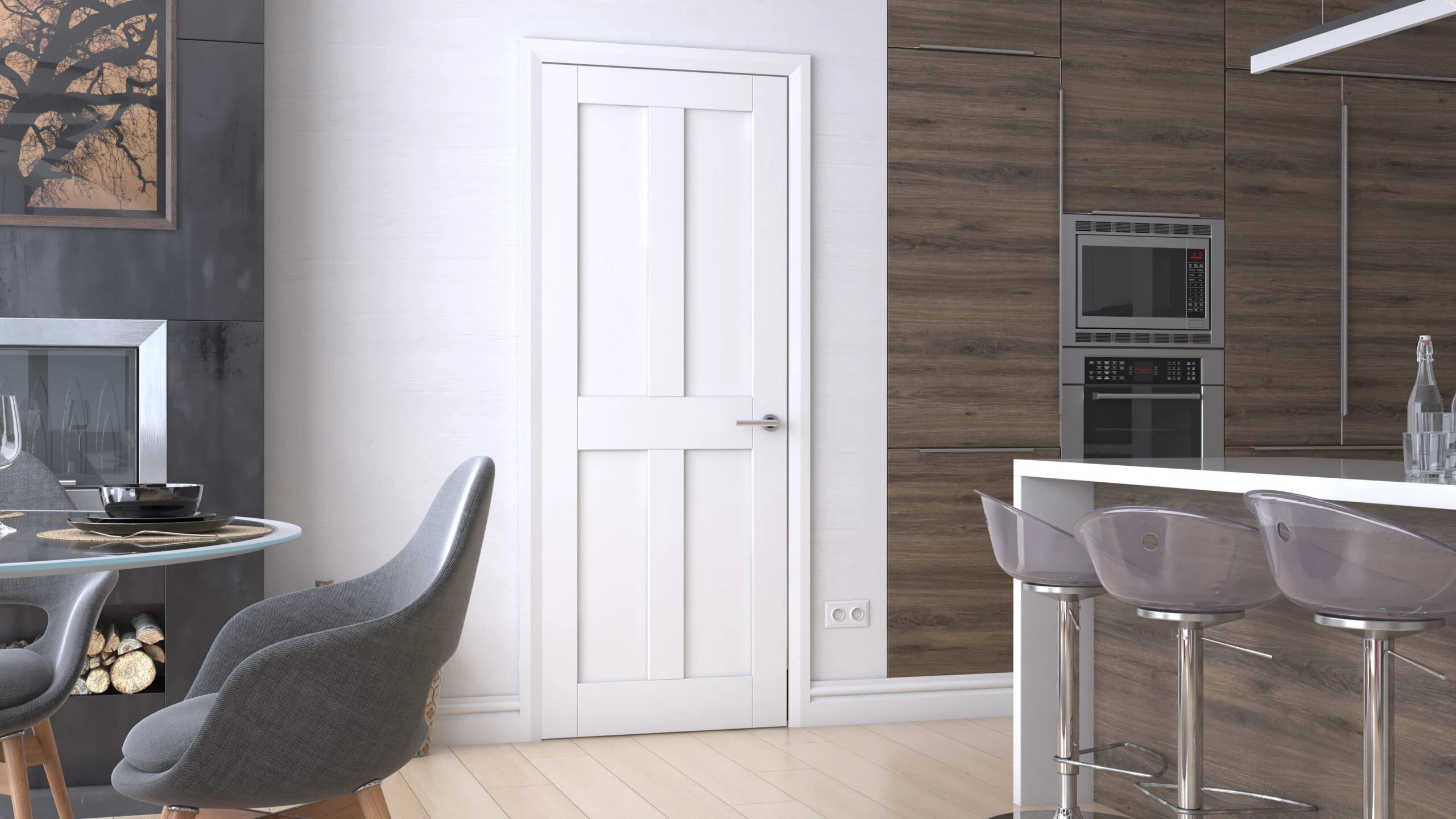 How To Clean White Internal Doors
Your white wooden internal doors are a beautiful addition to your interior decor. Simple, elegant and timeless, they lend themselves wonderfully to a broad range of interior design concepts and styles. Whether your tastes lean towards the traditional and time-honoured or the contemporary and minimalist, there's a white door for your home's interior.
In order to make the most of a white internal door's elegant simplicity, however, it needs to be kept clean. White is extremely unforgiving when it comes to the stains, splatters, scuffs and marks that are part and parcel of household life. A spilt drink here, a dropped spaghetti bolognese there, and the inevitable contact with errant shoes can quickly mar the pristine appearance of your white internal doors.
Here's how to get them beautifully clean and gleaming once more.
How to clean white internal doors
When cleaning white internal doors, it's important to target the stains and dirt while protecting the finish and appearance of the paintwork. Some eco-conscious householders may use a combination of distilled vinegar and water. After all, that works very well with most surfaces. However, the acidic nature of vinegar may make it unsuitable for cleaning internal white doors. Instead, use a dilution of mild sugar soap or dish soap. A mildly abrasive cleaner like The Pink Stuff may also be used sparingly. A quarter of a tablespoon of detergent should be enough for each litre of water you use.
Once you have your cleaning solution ready, use the following procedure to clean your white wooden doors:
Place old newspaper beneath your doors to catch any dirt, dust or drops of liquid that may fall down while cleaning
Give the door a good once over with a clean dust cloth to remove any loose dirt and dust
Test your cleaning solution on a small part of the door that is not clearly visible. Leave for a few minutes. If the solution has removed the stains without damaging the paint it is likely safe to proceed
Apply your cleaning solution using a spray bottle
Gently wipe the surface of the door with a sponge
Dry the door down with a clean microfibre cloth
Dealing with stubborn stains
Any stubborn stains that do not immediately come away can be removed with a combination of water and bicarbonate of soda. This is an effective solution for removing stains from painted surfaces like walls and doors without using harsh chemicals. However, it should only be used on painted interior doors and never on polished or varnished wooden doors. Bicarbonate of soda can interfere with wood varnishes and finishes or even cause staining.
If stains have gathered in the ridges of your door panels, these can be removed using an old toothbrush dipped in bicarbonate of soda. Scrub gently with a damp toothbrush and watch those stains vanish.
How to remove scuff marks
Scuff marks commonly occur when shoes or furniture come into contact with white painted doors. As unsightly as they may be, it's important not to attack scuffs with elbow grease and / or abrasive cleaning products. Both may damage the glossy finish of your internal doors. Instead, start with the mildest solution before moving to slightly more abrasive options.
Gently rub the scuff mark with a soft cloth dipped in water. If the scuff mark comes away, buff with a dry white microfibre cloth
If this doesn't work, try using a solution of half a teaspoon of washing up liquid in half a litre of warm water. Once the mark is gone, buff dry with a white microfibre cloth
If the above gets rid of most of the scuff mark but it is still visible, try sprinkling a little bicarbonate of soda on a damp cloth and scrubbing until the mark is invisible
Should the above fail to remove the stain, try using a damp 'magic sponge'. These are made with a melamine foam which loosens dirt and grime and traps them within the sponge. Rub very gently, however, to preserve the finish of the paint
How to clean wooden internal doors
We've looked about how to clean white internal doors. But are these methods also suitable for wooden varnished internal doors?
The finish on wooden varnished doors may be less resilient than paint, so it's always best to use the least abrasive means possible to clean your wooden internal doors. In most cases a damp cloth dipped in a solution of warm water and dish soap should be enough to remove stains and marks. Avoid using abrasive household cleaners like Elbow Grease spray as these can strip the varnish from the surface of the wood.
Use a duster to remove loose dust and dirt before wiping gently with a damp (not wet) cloth. Once stains have been removed, buff the door dry with a clean white microfibre cloth.
How to clean glazed internal doors
When cleaning glazed internal doors it's important to protect both the surface of the wood and the glass. Here are some cleaning tips for sparkling clean glass internal doors.
Cleaning clear glass
Before addressing the glass panels within your internal doors, clean the wood using the techniques mentioned above. Pay close attention to the areas where the glass panes meet the frame as these are prone to the accumulation of dust and dirt. As well as wiping them down, you may want to use a cotton bud to get the tricky hard-to-reach spaces.
A glass cleaning product like Windolene will work fine for the panes in your glazed internal doors. However, a cheaper and more eco-friendly option may be to use a combination of equal parts water and white vinegar.
Here are some tips to ensure a sparkling streak-free clean:
Use distilled water. The minerals in tap water can leave streaks or a murky finish on your glass
Avoid using kitchen towels or (worse still) toilet roll to clean your windows. These can leave little traces of lint that diminish your window's shine
Use a microfibre cloth to wipe away your window cleaning solution while using a separate dry cloth to buff the glass to a brilliant shine
Cleaning frosted glass
Internal doors with frosted glass panes are a great way to ensure privacy in your living space, while also flooding it with natural light.
These are also a little easier to clean, as the frosted finish prevents streaks from diminishing the window's appearance in the same way as clean glass. A glass-cleaner like Windolene will provide a perfect finish for frosted glass. However, in most cases it will be perfectly adequate to use the same water and dish soap solution that you use to clean the rest of the door. Just be sure to buff dry with a clean microfibre cloth.
Check out our range of wooden internal doors at Doors & More
With proper cleaning, your wooden internal doors will continue to look sensational for years to come. But if you feel like changing your interior aesthetic, feel free to take a look at our sensational range of internal wooden doors at Doors & More. You'll find doors to suit all tastes and interior aesthetics, including internal French doors, and space-saving bifold doors.