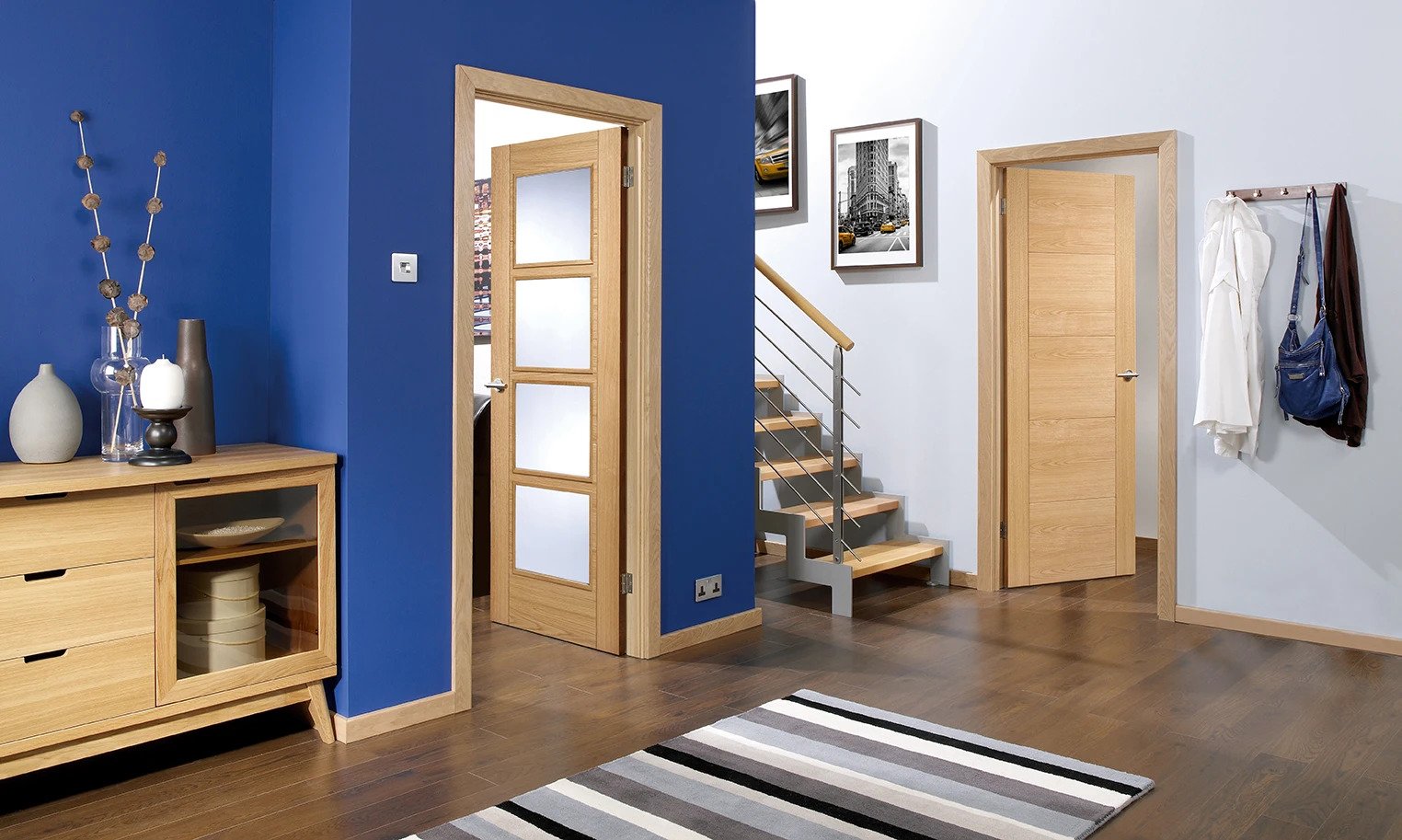 How to choose internal doors
When your internal doors start looking worn or damaged, or when they start to let in unwelcome noise and draughts, it may be time to replace them. But if you've never replaced your internal doors before, the prospect may seem a little overwhelming. How do you know which are the best doors for your home? How can you ensure a perfect fit, not only between the new door leaf and the frame but with your interior design concept? Here, we'll look at what you should be looking for when choosing your internal doors. 
Door types
When browsing our internal door selection, you'll likely notice a range of different door types. Let's take a look at each so you know which is best suited to the demands of your frame. 
Glazed doors
Glazed internal doors are perfect for allowing a splash of natural light to enter your living space. This can help the room to feel lighter and airier, showcasing the beauty of your decor more flatteringly and comprehensively than artificial light. 
Glazed doors are available in a huge variety of styles, colours and finishes. You can even choose how many panes of glass (we call them 'lights') you want in your internal doors. You may also choose between clear glass or frosted glass. Clear glass admits more light, while frosted glass diffuses the light slightly, preserving your privacy.
French doors
French doors are used to create a dramatic transition from one space to another. French doors tend to be glazed and may also be flanked by 'lights' on either side to provide a view of the next room and, again, a splash of natural light.
Bifold doors
Bifold doors are a wonderful alternative to French doors for those with little usable space. Bifold doors are designed to fold in on themselves, drastically reducing the amount of space that they take up while open. 
Fire doors
Internal doors that connect living spaces to spaces of shared occupancy (like corridors and stairwells) will usually be fire doors. These are designed to contain heat and smoke in the event of a fire, enabling the household to escape via the fire exit. They are thicker, and heavier and need to be hung in a fire door frame with three hinges rather than two. They will also use intumescent strips, smoke seals or both to prevent smoke and fire from escaping through the gap between the door leaf and frame. 
Fire doors come in a huge range of styles and sizes, so you're unlikely to need to compromise your design aesthetic in the name of fire safety.
Style
This is where the fun begins! Shopping for a new internal door enables you to match the style of your new door to your interior design concept. If you're looking for something classic and elegant yet timeless, nothing beats the simplicity of a shaker door. Or if you're after something with clean contemporary lines, how about the charmingly versatile Belize door or these stately Vancouver internal doors? Alternatively, if you prefer something with a greater sense of heritage we recommend the 20th-century inspired DX30 internal doors or the effortlessly classy Eton internal doors.  
Materials
We pride ourselves on stocking internal doors in a wide range of materials to suit all tastes, needs and budgets. Which you choose will depend on your personal preference and priorities. For instance, oak offers a pleasingly warm appearance that is also classic, timeless and perfect for all kinds of interior design concepts. However, oak is also a great natural insulator and offers superb soundproofing. Alternatively, pine is a more budget-friendly option with a natural look that celebrates the simple beauty of the wood grain. If you're looking for something a little more dramatic, however, you'll be hard-pressed to beat the darkly rich appearance of walnut. 
Finish
A door's finish plays a huge part in determining its look, feel and compatibility with its surroundings. We offer prefinished internal doors that are ready to be hung straight away. These are perfect for those who want to enjoy the beauty of the wood grain. However, we also have a huge range of unfinished doors to which you can apply any colour stain you wish. Alternatively, you may prime and paint them in whatever colour you wish. We also offer pre-primed and paint-grade internal doors that are specifically designed to be painted. 
Colour
You may notice that our ready-primed doors come in several different colours. White is the most common, closely followed by grey and black. These doors can be hung straight away. However, we recommend applying a coat of paint first. The primer is designed to create a surface for the paint to adhere to, and will not offer the same protection from wear that paint will. 
White primed doors are designed to be painted over with lighter colours, while grey and brown can be painted over with darker colours to create the perfect match with your interior aesthetic. 
Budget – How much should internal doors cost?
The cost of your internal door will largely depend on the style of door, its size, and the materials that are used to make it. Pine is a budget-friendly option, with doors ranging from around £90-£120. Engineered oak is a good mid-range choice at around £85-£170, while walnut doors tend to range between £150 and £250. Solid oak is more expensive with prices ranging from just over £237 to around £728.
French doors tend to range from around £359 to over £1,100, while fire doors may cost anywhere from around £120 to over £500.
Let us help you find your dream doors
Whatever your style, your needs and your budget, we're certain that you'll find the right internal doors for your home or business premises within our range. Not sure exactly what you're looking for? No problem! Our skilled and highly experienced team is on hand to help guide you through your options. So you can find the perfect fit for your property. We even carry a huge range of door handles and hardware to help you further customise the look of your doors.