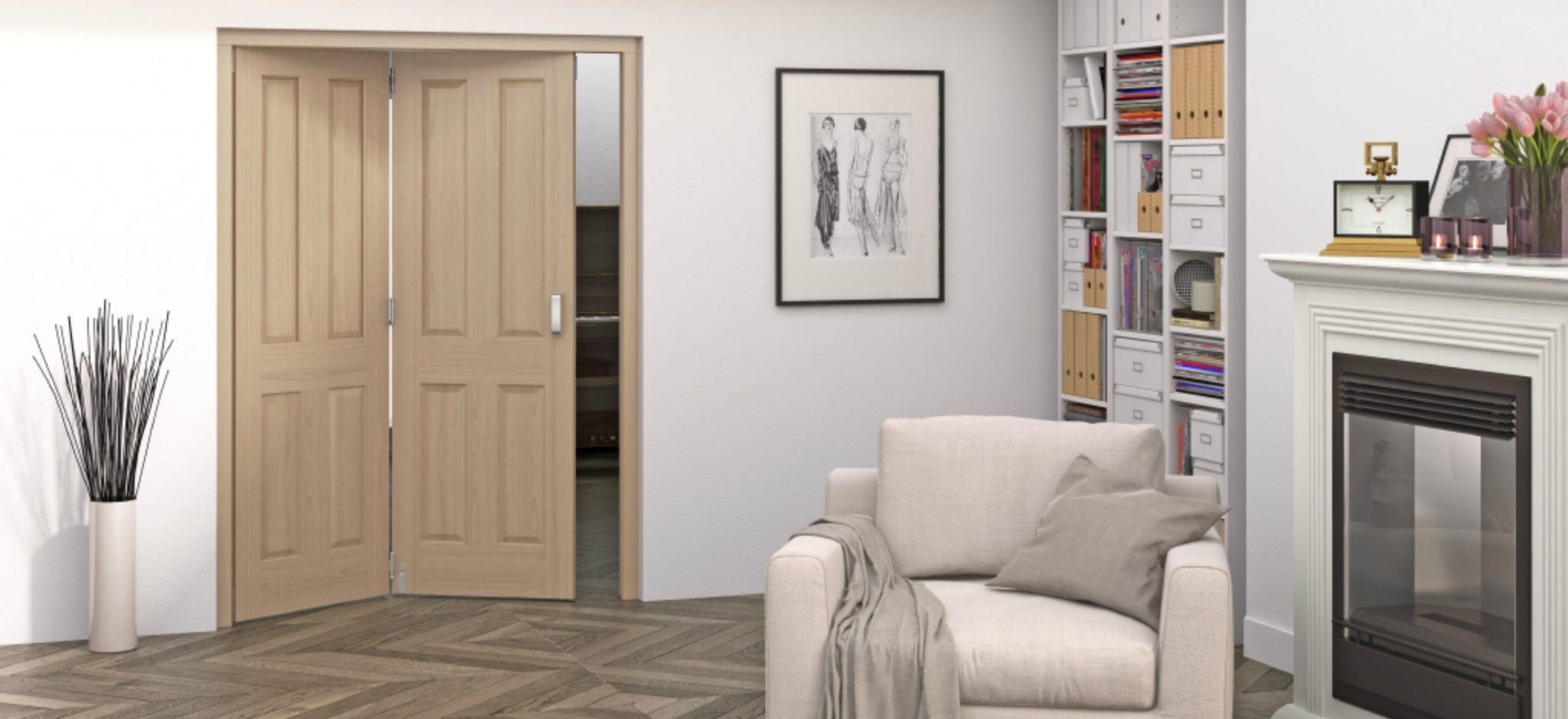 Which Space-Saving Doors Should I Choose?
When it comes to maximising space in your home, one of the simplest ways to do this is to choose doors which impede on the floor space in your rooms as much as possible. Today, we run through some of our favourite space-saving doors.
Internal Bifold Doors
Internal bifold doors are one of the most popular space-saving door designs as they're incredibly easy to install, cost effective and are available in a whole range of styles, colours and finishes. They can be used in many different capacities too, from wardrobes to bedrooms and even bathrooms. They can even be used for pantry or utility rooms, or to hide kitchen appliances.
Bifold doors can be purchased in lots of different colours, and in different designs including glazed variations. Whether you want them in your kitchen, bathroom, or bedroom, you're bound to find a design of door that will fit into your current décor. Bifold doors can also add a chic look into rooms, making them seem more seamless than they already are. Some people like to hide their laundry rooms, using a little space, for the washing machine and dryer then having a few shelves, and hiding them with some bifold doors. This works great for small apartments.
Pocket Doors
Pocket doors are becoming more and more popular. Rather than folding out of the way, pocket doors slide in to a space in the adjacent wall, which is great news for rooms or spaces that don't have enough room for the swing of a hinged doors.
Pocket doors are great for bathrooms, especially en suites. Or even for small bathrooms that don't have enough room for a normal internal door. They can lock too, which not a lot of people are aware of, a simple hook and eye look works well enough. For hidden utility rooms or pantry's, pocket doors can be handy.
Again, pocket doors can be helpful when trying to hide things like a small laundry room, or a wardrobe, they come in many different colours, shapes and styles too, so you can make a real architectural statement, if you wish, or opt for something more subtle.
Barn Doors
Barn doors are a little like pocket doors but rather than sliding into the wall, barn doors slide and hang onto the side of the door. Barn doors can be used in a lot of different ways and aren't too hard to fit either. If you simply need a door but don't want to use a normal door, barn doors can easily be used.
They can be used for bedrooms, kitchens and to hide things like a put away laundry room and even kitchen appliances. Due to the fact they are hanging off of the side of the door, they are quite simple to fit, especially with some help. They are easily moved too, so they wouldn't be a problem for children.
They also look great as wardrobe doors as well as bedroom doors Not all barn doors are rustic looking, you can have them a bright colour or, have them as a clean plank of wood and then paint them a pattern that suits your décor.