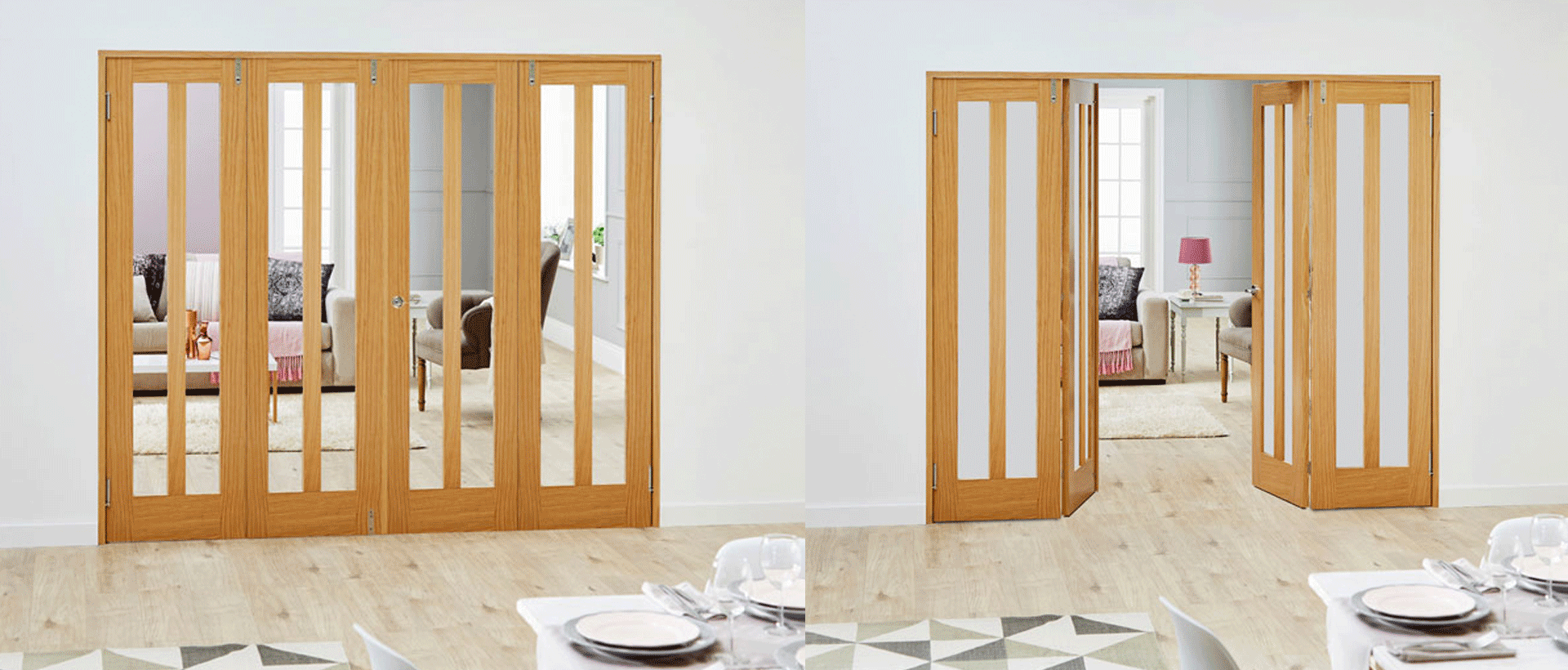 What Size Internal Bifold Doors Do I Need?
Whether you're buying new internal bifold doors or replacing old ones, it can be tricky to decide what size you need. We're here to help you understand bifold door sizing so you can buy with confidence. From standard sizing to custom doors and measuring up, this handy guide covers all your sizing queries. 
What are the Standard Internal Bifold Door Sizes?
Most internal bifold doors have a standard height of either 2047mm (6.7 feet) or 2078mm (or 6.8 feet). Bifold door widths can vary greatly, which is the beauty of this type of door. Sizes in the Doors & More range start from 610mm (2 foot) across and go up to 4652mm (15.3 feet).
Bifold doors are made up of a series of panels. The number and configuration of these panels will affect the door width. Let's take a closer look at how this works.
Understanding Internal Bifold Door Sizes
When selecting a door size on our website, you'll find the width listed first, followed by the height. After the measurements in mm, you'll also see some numbers in brackets e.g. (2+0) or (5+1). These numbers describe the configuration of the door panels. So what do they mean? Check the below table, where we substitute X for the number to create a generic example.
Internal Bifold Door Configurations:
X+0 – In this example, X is the number of panels. +0 means that all the panels are joined, and will fold away as one unit in one direction (either left or right). When open, all panels will be in one location.

X+1 – Once again X stands for the number of panels. Where +1 is shown, it indicates one additional door. An additional door like this is usually known as a traffic door. It opens up alone, so you can quickly get in and out without folding back a series of door panels.  

X+3 – This configuration indicates that your door will be made up of two sets of panels (e.g. 3+3). Each panel set will fold away, so your open door will have 3 panels that fold away to the left and 3 that fold right. This can be useful for larger doors, making them more manageable.
Sizing Guidelines: Things to be Aware of
Internal bifold door panels usually measure between around 400mm and 900mm each.

Sizing can differ between different door manufacturers, which is why 'standard' sizing is difficult.

Due to the large variety of sizes, bifold doors offer versatility to your home.
Benefits of Large & Small Bifold Doors
Bifold doors are great space-savers. Smaller doors can help you to open up areas like cupboards or small rooms.

Large internal bifold doors can create temporary open-plan living spaces that can be closed-off when needed.
How to Measure for Internal Bifold Doors
When you're buying internal bifold doors it's important to measure up properly to ensure you get the right size. Here's how:
1. Remove any existing doors before you measure up.
2. Measure horizontally at the top, middle and bottom of the opening. 
3. Write down the smallest measurement.
4. Measure vertically at the left, right and centre of the opening. You should measure from the sub floor to the lintel above the opening. 
5. Write down the smallest measurement.
6. Double check all measurements – it's always worth being certain!
7. Now you have the measurements for the door opening, but you may need some further advice.
8. Check how much clearance the door of your choice will need.
9. Tracks and hardware require space so ask for advice before you buy if needed. 
Custom Internal Bifold Sizes
If an 'off the shelf' internal bifold door won't fit your aperture (or you're creating a custom build) it is possible to get internal bifold doors custom made. With a few details and specifications, you'll be able to get a quote for the doors you need to fit your home perfectly.
Custom internal bifold doors can really add the wow factor to your home. Creating doors that seamlessly fit your interior can add that finishing touch to a unique self-build. 
Whatever the space, there's likely to be an internal bifold door for you. Whether it's a space-saving folding door or a gorgeous, light, room divider, bifold doors are really versatile. If you're looking for something really unique you could consider a bespoke bifold door. Measure carefully and ask for advice if you need it before you buy. Don't forget that most interior bifold doors can be adjusted too if the fit isn't quite perfect.