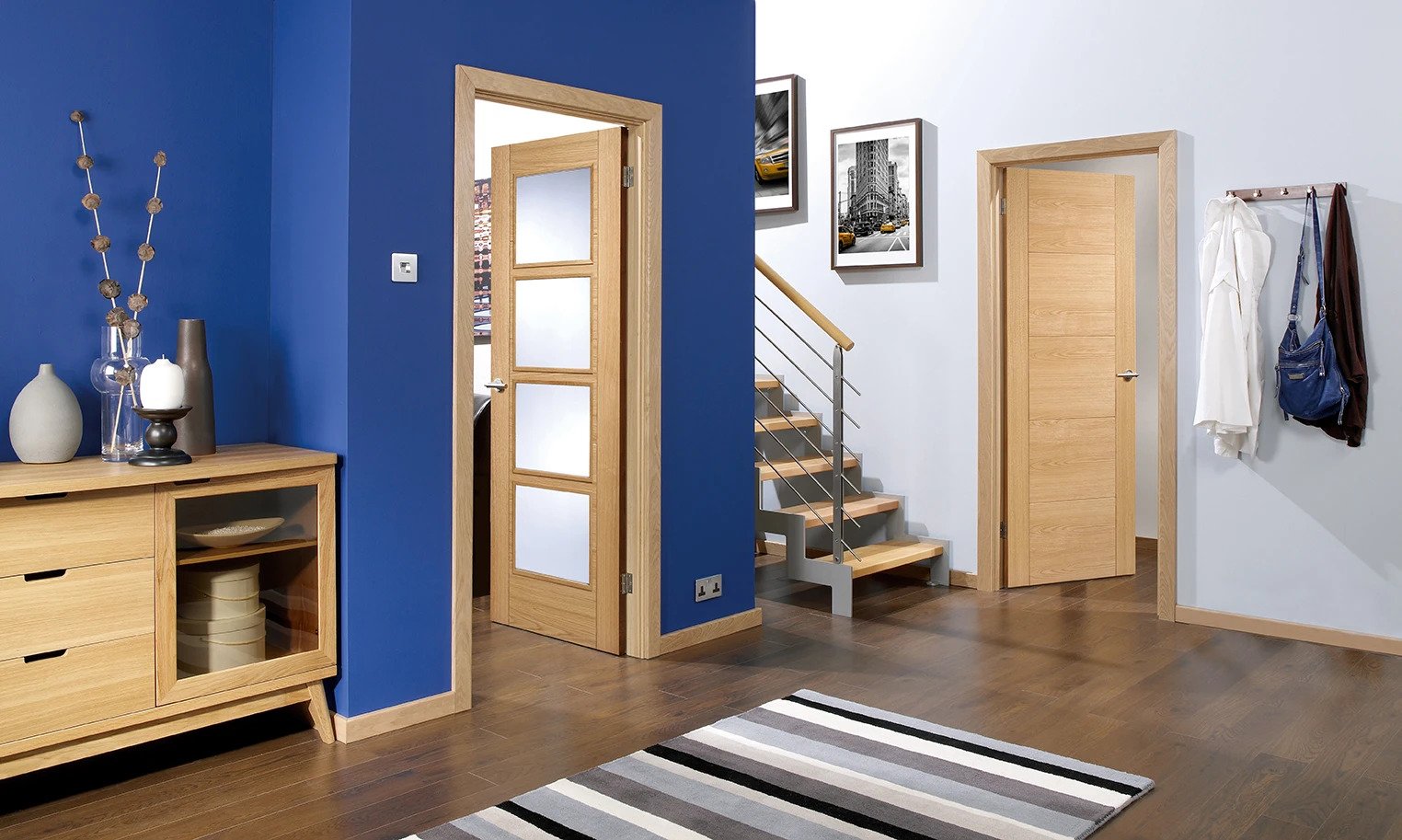 Everything You Need to Know About Replacing Fire Doors
Good quality internal doors are built to last. But nothing lasts forever. Internal doors may be subjected to wear or damage. Or you may simply decide that it's time to redecorate, and your existing internal fire doors no longer match your chosen aesthetic. Whatever the reasons, the idea of repairing or replacing fire doors may give many pause.
After all, fire doors are different in construction to regular internal doors, and undergo rigorous testing from the British Woodworkers Federation to ensure their FD ratings. You may wonder whether you can upgrade an existing door into a fire door, or whether fire doors can be repaired while still maintaining their FD rating. Or you may simply wonder how you can tell if a fire door is ready to be replaced. 
Here, we'll attempt to answer all your questions about replacing fire-rated doors. 
How long should fire doors last?
There is no set period within which a fire door should remain effective. As long as it is well maintained, a fire door should last for years or even decades. However, even with their robust construction, fire doors may be compromised by:
Damage from force or misuse

Excessive use or wear

Natural deterioration

And, of course, fire damage
When determining how long your fire door will last, it's worth considering the elements that make it effective. 
Delamination:

Fire doors are made of numerous different layers. Time and exposure to the elements can cause these layers of materials to separate

Core:

– Fire-rated doors have a solid core (usually made from softwood). However, this may degrade over time

Structure

: Damage from vandalism or forced entry can weaken the structure of a fire door. While this may be repairable, it is often easier to replace a damaged fire door
Telltale signs your fire door needs replacing
Fire doors are essential in keeping your home as safe as possible in the event of a fire. They are designed to contain the fire, and prevent it from impinging on the emergency exit. An FD30 fire-rated door should keep a fire at bay for at least 30 minutes. However, wear or damage may compromise a fire door's ability to do this.
Here are some telltale signs to look out for in deciding whether or not your internal fire doors need to be replaced. 
Difficulty in closing the door, or keeping the door firmly closed

Gaps visible around the edge of the door when closed

The door has become too stiff and is difficult to open and close fully

The door has broken or damaged hardware

Glass panels are cracked
Can a normal door be turned into a fire door?
Fire doors have an intumescent strip that runs around the edges of a fire door. This expands upon reaching temperatures of around 200 degrees celsius, forming an airtight seal between the door and the frame. Fire doors often also come with cold smoke seals to prevent smoke particles from filtering between the door leaf and the frame.
Given that these can be purchased separately and applied to any door, readers may wonder whether this is enough to turn any door into a fire door. However, while these elements are integral to the function of a fire door, they are not enough to make a standard internal door a fire door.
Fire doors are thicker with a dense core. A standard internal door typically ranges between 35mm and 40mm in thickness, while an internal fire door is 44mm thick. What's more, glazed fire doors use a special ceramic or borosilicate glazing that is more fire resistant than the glass in standard internal doors.
That said, there are certainly steps that readers can take to make their internal doors more fireproof. 
These include:
Applying a fire-resistant paint or varnish

Fitting an intumescent strip

Fitting a cold smoke seal

Replacing the glazing 

Adding a third hinge if your existing door only has two
It should still be noted, however, that the above do not make a standard door into a fire door, nor do they guarantee the same protection. 
Do I need to replace the door frame when upgrading to a fire door?
When replacing a standard internal door with a fire door, you may wonder whether you can retain the existing door frame or need to replace the frame and leaf at the same time. 
Most of the legislation surrounding the installation of fire doors pertains to commercial premises and buildings of multiple occupancy. However, just because it may not be illegal to install a fire door in an existing door frame, does not mean that it is safe or practical to do so. 
A fire door frame is specifically designed to accommodate a 44mm thick fire door. While a standard door frame will usually accommodate a maximum thickness of 40mm. What's more, installing a fire door in a standard frame may lead to difficulty opening and closing the door or gaps between the door leaf and frame. These can undermine the efficacy of a fire door and even make it more dangerous, especially if the door sticks when operated.
As such, it is always recommended that you replace the door frame along with the leaf when replacing a standard internal door with a fire door. 
Can I repair a fire door?
Some fissures with fire doors can be repaired without needing to replace the whole door. However, this is not always the safest or most effective way to deal with a damaged or worn fire door. 
Holes, missing parts, or a poor fit between the door and the frame cannot be repaired while maintaining the integrity of the fire door. As such, fire doors will need to be replaced under these circumstances. However, a damaged or worn intumescent strip or smoke seal can be repaired. 
Just keep the following in mind when repairing a fire door:
The door and frame must be flush after the repair

Smoke seals should be replaced in one continuous length to ensure that there is no leakage at the joints 

Be sure to replace any hinges with BS EN1935 compliant fire-rated hinges and ensure that 3 hinges are attached to the door.

Ensure that any other hardware is CE marked 

All fire-safe components must be replaced with like-for-like specifications
Take a look at our FD30 rated fire doors
Need to replace your existing fire doors? Look no further. At Doors & More, we stock a fantastic range of FD30 rated fire doors from some of the UK's most trusted manufacturers. Take a look at our selection to see how you can upgrade your fire safety without compromising on style.