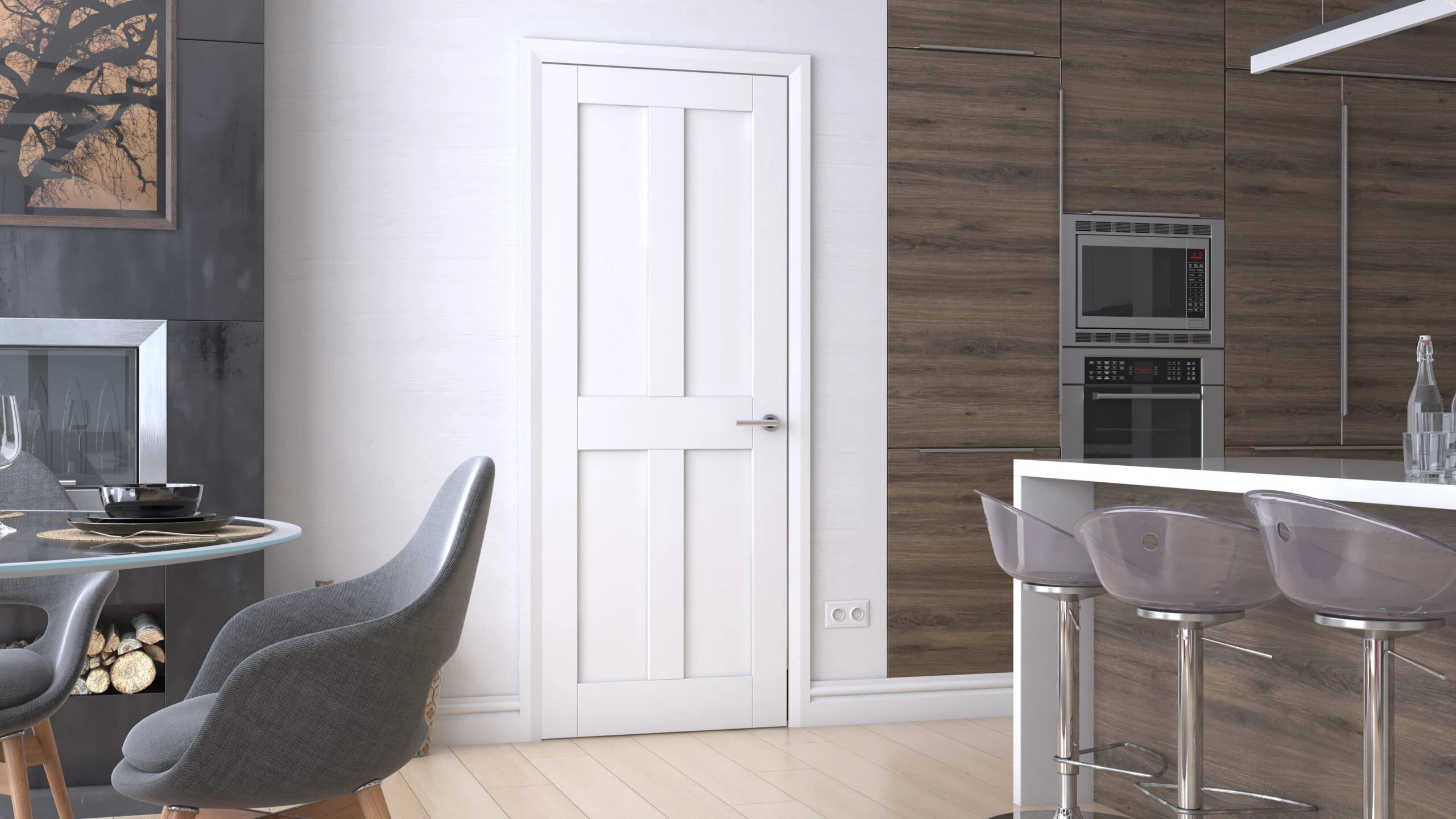 Can Fire Doors be Painted?
At first glance, a fire door may look indistinguishable from any other internal door. Look a little closer, however, and you'll realise that a fire door differs in several ways. For instance, a fire door needs to have three hinges, rather than two. Moreover, they are thicker and more robust in construction at 44mm rather than the typical range of 35mm to 40mm. 
As such, some readers may wonder whether fire doors can be painted, or whether they need to be treated with a special kind of paint. After all, painting your internal doors can give them a new lease of life, and help them to better fit in with changes to your interior decor. If you have a fire door that opens from a living area onto a communal area like a corridor or stairwell, you may worry that you cannot repaint your fire door so that it matches your desired aesthetic. 
Here, we'll attempt to put worries and misconceptions to rest as we explore the facts about painting your fire doors. 
Can wooden fire doors be painted?
Yes, wooden fire doors can be painted. Wooden fire doors are typically made from a solid core of softwood surrounded by a veneer of decorative timber like oak or walnut. FD rated fire doors are available either finished or unfinished. As long as an appropriate primer is used, unfinished doors can be painted in the same way as any other internal doors. 
Prefinished doors treated with a white primer can be painted as with any other internal door. However, varnished or stained fire doors should be sanded down to create a smooth surface for the paint to adhere to. 
When painting fire doors, it's important to remember not to apply too many coats. In order to be fully functional, a fire door needs to be able to open and close completely without impediment. It's important to ensure that the door can be properly opened and closed after each coat of paint has dried. Be very wary of making the door thicker than it needs to be. 
Can metal fire doors be painted?
Metal fire doors are rarely used in private swellings. However, they are often used as external fire doors in buildings of shared occupancy such as apartment buildings and student houses. If you own or manage such a building, you may wonder whether metal fire doors can be repainted if the paint becomes worn, faded or chipped. 
Metal fire doors are typically already primed, but if your metal fire door is unfinished a layer of primer should be applied to seal it. Ensure that the door is wiped with a damp cloth to remove dirt and grease, and that any excess cleaning products are also wiped away from the surface. 
Spray with an HVLP gun. Hand painting and rolling is not advised. Hardware should be masked as this cannot be painted. Kickplates should also be sealed with caulk to prevent moisture from seeping beneath the coat. 
What paint can be used for fire doors?
Fire-rated paints are available for the painting of fire doors. These are available in a wide range of colours, meaning that there is an excellent chance that you will be able to find a good fit with your interior decor. These create an intumescent barrier between the fire and the timber, potentially enhancing the fireproof properties of your internal doors.
However, fire doors can also be painted with conventional paint. As long as the wood or metal is properly primed, you should be able to achieve the same finish on a fire door as any other internal door.  
Can you paint intumescent strips?
An intumescent strip is a rubbery strip that runs along the edges of a fire door. Adhesive strips can be applied to the edge, or (more frequently) the strip will be set into the outer layer of the door. When the ambient temperature reaches around 200 degrees celsius, this strip will expand, creating a seal between the door leaf and frame that prevents the fire from spreading.
Intumescent seals are integral to the function of a fire door. But can you paint over them?
This is a matter of personal preference. There is no evidence to suggest that a coat of paint impedes the function of an intumescent strip, as long as you don't apply too many coats. If painting over an intumescent strip, we would advise using fewer than 5 coats.  
Can you paint smoke seals?
Like intumescent strips, smoke seals are designed to prevent gaps between the door leaf and frame. Unlike intumescent seals, however, a cold smoke seal should not be painted. It is important for smoke seals to be flexible in order for them to be effective. If smoke seals are dampened down with a layer of paint, this will make them much less effective in sealing the small gaps between the door leaf and the frame. Keep in mind that smoke seals do not expand in the way that intumescent seals do. 
Can you paint fire door hinges?
You should avoid painting over fire door hinges and other hardware. A fire door should be able to open and close easily. Any impediment to its range of movement can render it less effective as a fire door. A layer of paint may impede the function of fire door hinges. 
Can fire doors be sanded?
Yes, you can sand wooden fire doors. Internal fire doors have a solid wood veneer which will be more than robust enough to sand down by hand. In fact, sanding is recommended for ensuring that the paint properly adheres to the surface of the door. 
How do I paint a fire door?
Painting a wooden fire door is fairly straightforward. Simply follow these steps:
Wipe down the door and ensure that all hardware is covered with masking tape 

Sand down the surface to create a smooth surface for the primer

Dampen the surface of the door with a damp cloth to reduce drying time

Apply a layer of primer with a hand roller while using a small brush for more intricate areas

After the primer has dried, apply the paint. For a smooth, even finish be sure to use broad and even strokes in a uniform direction 
Take a look at our FD30 rated fire doors
At Doors & More, stock a fantastic range of unfinished and white primed FD30 rated fire doors from some of the UK's most trusted manufacturers. Take a look at our selection to see how you can upgrade your fire safety without compromising on style.