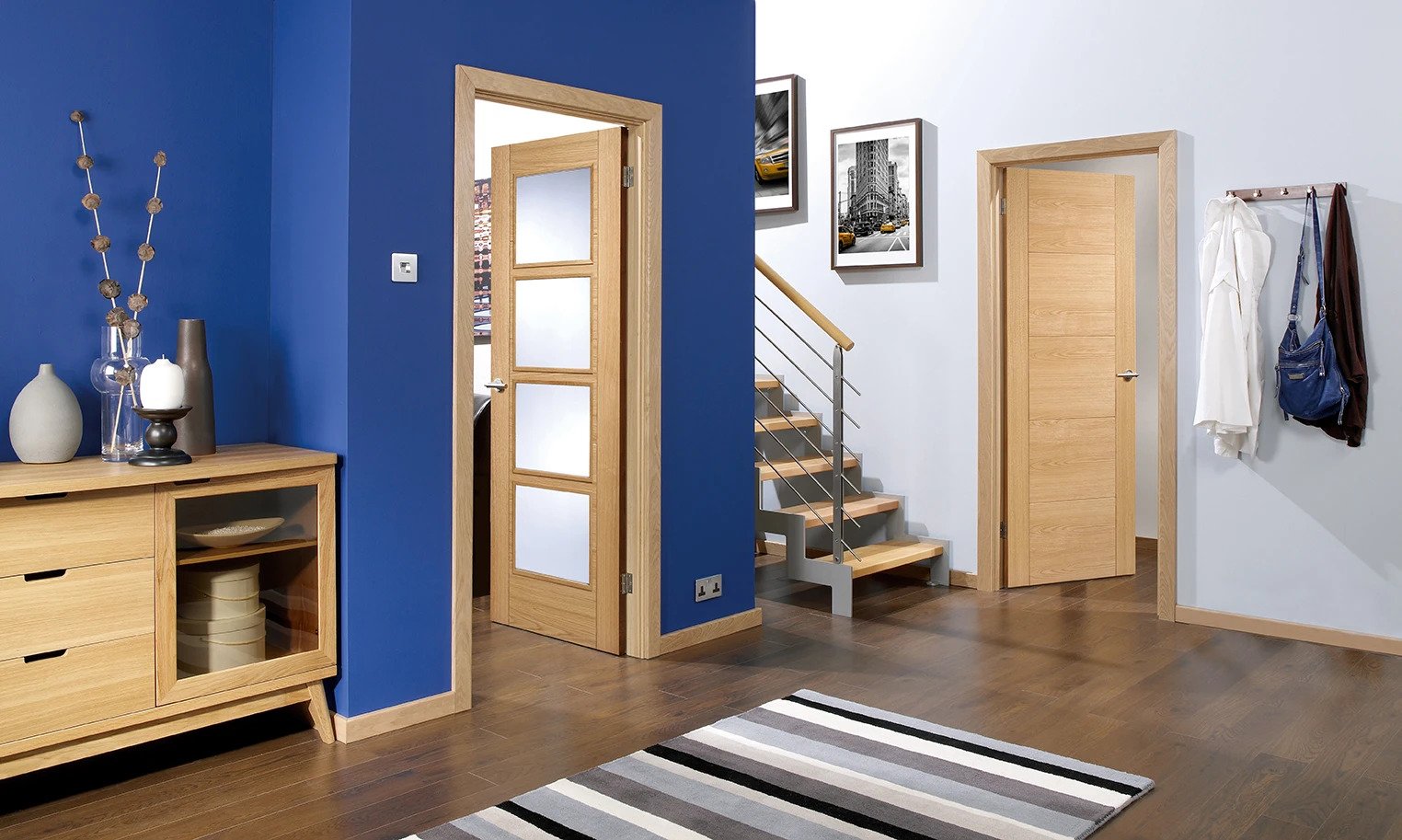 An Easy-to-Understand Guide to Fire Door Regulations
At Doors & More, we're proud to stock a wide range of internal doors to suit all needs and styles. Our range of internal doors doesn't just help your home look more beautiful. They can also improve sound and thermal insulation, add more natural light to your living space, and even make your home safer.
Which brings us to the subject of fire doors. We are delighted to stock FD30-rated doors in a wide range of sizes, colours and styles. But many of our customers are unsure of the regulatory implications when it comes to installing internal fire doors in their homes or businesses.
That's why we've compiled this easy to understand guide to fire door regulations. Here, we'll attempt to provide definitive answers to your most frequently asked questions.
What is a fire door?
At first glance, a fire door looks just like any other interior door. However, there are subtle differences that may not be visible to the casual observer.
Fire doors are commonly made with a solid timber core, although they can also be made with steel, aluminium or gypsum. As such, they are thicker than standard internal doors– usually around 44mm in thickness.
Although fire doors can be glazed, the glass within them is typically a ceramic or borosilicate glass that offers greater fire resistance than conventional glazing.
Fire doors are also designed to provide a tight fire seal between the door and the frame, so there will be a fire-resistant intumescent strip at the bottom of the door and around the sides.
How to tell if your door is a fire door
The best way to tell if your door is a fire door is to look at the top edge of the door leaf. There will usually be a certification label showing the door's fire safety rating. FD-30 is the most common.
If in doubt, open the door up. If it is around 10mm thicker than your other internal doors with a fuzzy intumescent strip running along its circumference, it will be a fire door. There is also usually a red and yellow coloured plug within the door.
What does FD30-rated mean?
FD-30 is a fire certification assigned to fire doors by their manufacturers. If a door is FD-30 rated, it means that the door has passed the fire testing requirements laid out in BS 476-22:1987 and BS EN 1634-1:2014. As such, it is guaranteed to keep harmful fire and smoke at bay for a minimum of 30 minutes.
Are fire doors a legal requirement?
When it comes to private residences, the legal requirements for fire doors are much less rigorous than for public or commercial buildings.
Newly built or refurbished homes that have 2 or more storeys must have a fire door for every habitable room (i.e. not a bathroom / storage cupboard etc.) that leads onto the stairwell. This includes single-storey properties with loft conversions.
Are fire doors a legal requirement in flats?
Not all doors in a flat are required to be fire doors. The only legal requirement is that a fire door be used for the front door, where the apartment is connected to communal areas such as stairwells or corridors.
When are fire doors required in a commercial building?
Legislation for commercial or public buildings is much more rigorous than for homes. Here, fire doors are legally required for all internal doors that lead to communal corridors and stairways. This is so that they can provide an unobstructed escape route for occupants while ensuring that access to emergency exits is not impeded by fire.
How many fire doors are required in a building?
There is no legal prescription for the number of fire doors required in a building. However, commercial and public buildings are legally required to have more than one fire exit wherever possible. As such, doors leading from communal areas are required to be fire-rated doors in order to facilitate a safe fire exit.
What rooms need fire doors?
In terms of regulatory compliance, a room only needs to have a fire door if it leads out from a  habitable room onto a stairwell or corridor. This is only necessary for apartments with communal access and new or recently refurbished properties.
However, there are no limitations on putting fire doors in other rooms. For instance, it may be prudent to have fire doors leading to kitchens or garages where combustion occurs. This can mitigate the risk of fires, smoke or carbon monoxide poisoning in the home.
How often should fire doors be checked?
By rule of thumb, it is recommended that fire doors be checked every 6 months. Just like a smoke alarm or fire extinguisher, a fire door should be checked regularly to ensure that it is fit for purpose. While there is no legislation for the checking of fire doors in domestic properties, public and commercial buildings are required to check their fire doors regularly.
Under Article 17 of the Regulatory Reform (Fire Safety) Order 2005 (RRO/FSO), it is a legal requirement for fire doors to be correctly installed and adequately maintained by a competent person.
Do you need to be qualified to fit fire doors?
Although there is no official requirement for domestic fire doors to be professionally fitted, it is recommended that fire doors be installed and tested by a trained and competent person. Commercial and public buildings should ensure that fire doors are installed by a competent person under Article 17 of the Regulatory Reform (Fire Safety) Order 2005 (RRO/FSO).
There is no single official accreditation that is necessary to install fire doors. However, some organisations like The British Woodworking Federation Group offer accredited fire door installation courses.
Can fire doors be propped open?
No. Fire doors are designed to prevent harmful smoke and flames from reaching inhabited / communal areas of a building. As such, they should be kept closed at all times. The only exception to this is doors that have a retainer fitted. These automatically close fire doors when a fire alarm is triggered.
Propping open a fire door in a public or commercial property is not technically illegal. However, it can make your company liable for injury or loss of life and will certainly invalidate your insurance policy.
How long do fire doors last?
A fire door will last anywhere between 30 and 120 minutes if a fire breaks out in a room where they are fitted. The certification will show how long the door is designed to last in the event of a fire. For instance, FD30-rated doors (the most common fire door) will last for 30 minutes, FD60 for 60 minutes, FD90 for 90 minutes and FD120 for 120 minutes.
What fire doors do I need?
Still unsure about what fire doors are best for your home and business? Take a moment to browse our selection of fire doors. We're sure that you'll find the perfect fire door for your needs and style.
Needless to say, our helpful and knowledgeable team are on-hand to answer any questions you may have about your fire doors and your regulatory obligations.