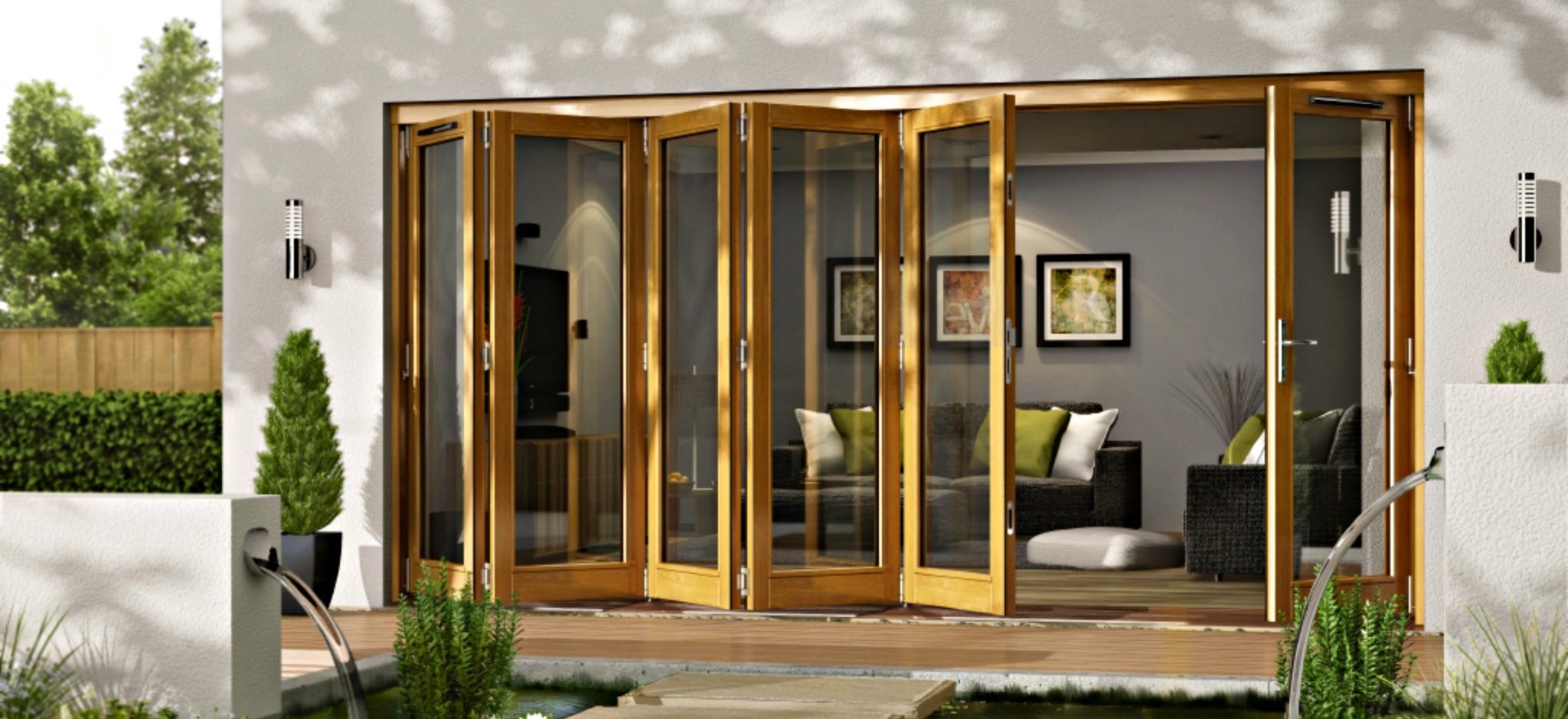 What Size External Bifold Doors Do I Need?
When shopping for external bifold doors you'll not only need to take the size of your aperture (or opening) into consideration, but also the size and weight of the bi-fold doors, their frame, the amount of panels you want to install in your home. We've put together a guide to help you understand more about bifold door sizes and how to measure your opening for your new doors.
Standard External Bifold Door Sizes
This will depend on the manufacturer, of course, but there are basic sizes you can use as a rough guideline.  Most external bifold door configurations are designed to fit openings of around 1.8 metres and over. In terms of height, most external bifolds will be between 6.8 and 7 feet, with wooden frames generally being higher and narrower than aluminium frames. The width will always be more variable and will depend on the amount of doors you want to use, with most common configurations involving pairs of doors. If you decide on an odd number of doors, one of the doors will most likely act as a traffic door that will operate separately from the other doors. Most generic door panels will be between about 500 and 1000mm in terms of width, so once you have measured your aperture you'll want to make a note of how many doors you want and ascertain the width of the doors you require based on the size of your opening and how many doors you desire. There's also the option of having your bi-fold doors custom made if the manufacturer simply doesn't stock the width you desire, though this will obviously come with a premium cost.
How to Measure for New External Bifold Doors
Before you get your tape measure out, be aware that many companies might actually come out and measure your doors for you. If you're planning on installing them yourself though, remember to always measure twice and make a lot of notes! Also, make sure you always measure from the face of the opening, not the trim, as the trim will hang over the aperture to cover the gap around the edges of your bifolding doors.
Take a spirit level out and measure the corners of your aperture to make sure everything is square. If it isn't then you might need to make some adjustments before you proceed. If you're not skilled in DIY and construction, ask a professional as widening an aperture is not easy. If it's too large, meanwhile, you could use packing wedges or filler to bulk it out.
Next, take 3 measurements at each end of the aperture and one in the middle for both the width and the height, then take away 10mm from the smallest measurement. The manufacturing width and height of your bi-fold doors will be the structural opening size minus a fitting tolerance of between 10mm and 15mm. You shouldn't need to measure depth in this case, as most bi-fold doors and openings will be of a similar depth.
Now you have the basic size of the doors required figured out, you need to factor in the threshold and tracks. We'd recommend a flush track, in which case the height of it will be the underside of the sunken track; around 45mm below the floor level on which the door will be installed.
Finally, make a note of how many doors of your desired size can fit in the opening and make sure there's room in there for them to move. Make sure there's room for the door to fold and slide outward or inwards depending on your preference. Bifold doors will take up less space than most doors so it shouldn't be a major problem, but if space is at a premium , then it's definitely worth considering.
How to Measure for Replacement Doors
Whilst this might not seem as important, you'll need just as accurate measurements when replacing your current external bifolds, or replacing older doors (patio, french doors or sliding doors for example) with new bifold doors.
First, you'll need to remove the old frame, including the trim, unless your new doors will be using the same frame. If you're going with brand new bifolding doors, this is going to be very unlikely.
When measuring or talking about door sizes, it's always width first then height. As with above, take your measurements, one at each end and the middle, and the same for the height.
For the width, measure at the side jambs at the widest part you can access and circle the smallest measurement; this is your width size. For the height, measure between the head jamb and the sill at the tallest part you can access and again circle the smallest measurement.
What Door Configurations Can I Have?
The configurations available to you (inward or outward opening, opening in the middle or at the side, amount and placement of traffic doors) will largely depend on whether you opt for an aluminium frame, a wooden frame of a UPVC frame. All options have their benefits and drawbacks, though wooden frames tend to allow for taller doors and aluminium frame will allow for wider doors. UPVC, on the other hand, is more flexible, but is also a lot cheaper and not as durable, so you'll only really want to opt for it if you're on a budget. If you want to try something a little different, on the other hand, you could always opt for the bespoke option, which will allow you to order bifold doors of all shapes and sizes, even mixing and matching different sizes if that's your bag! In this case, measuring is even more important!