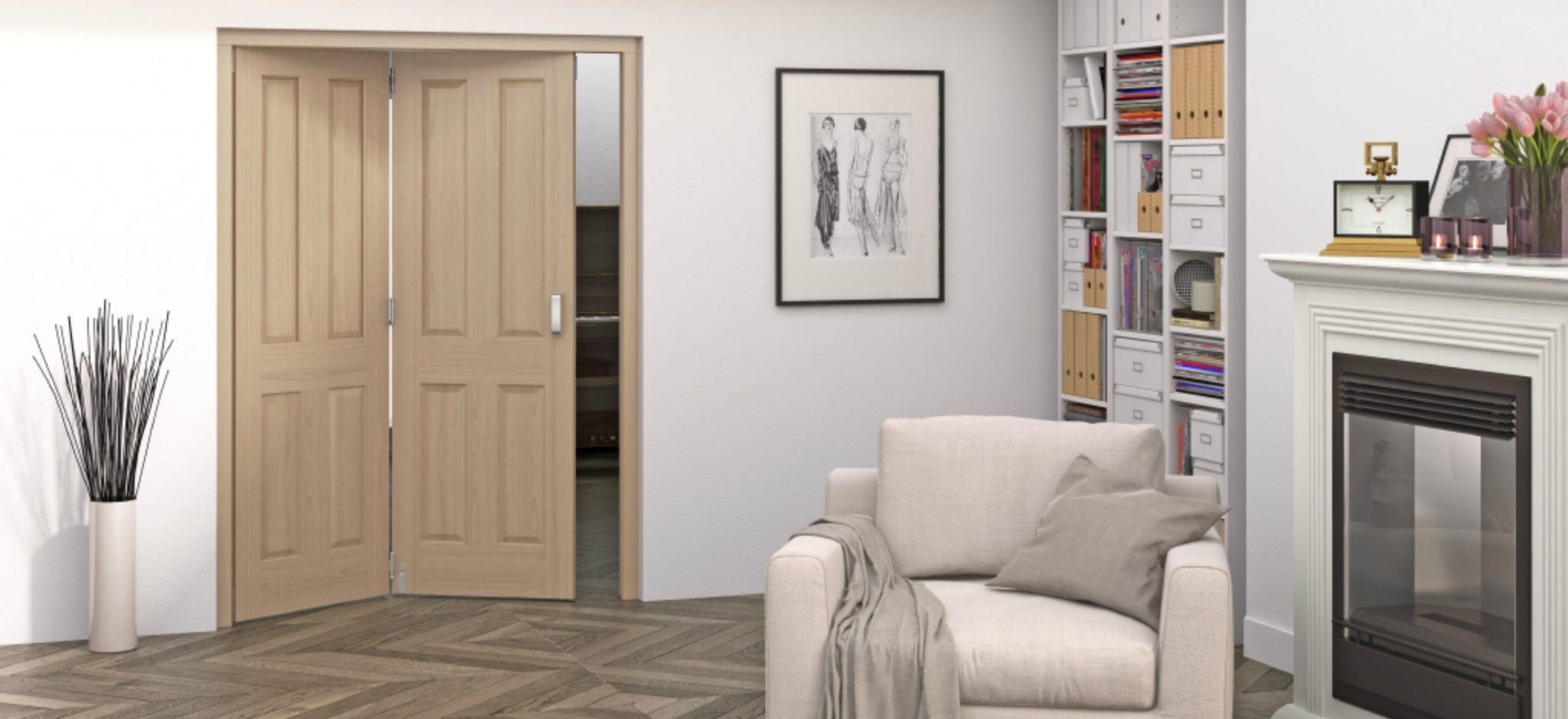 What Are External Bifold Doors?
External bifold doors, often otherwise known as external folding sliding doors, are a set of doors which slide open and closed along a track, and fold in or out on one another in order to open up a space. In external applications they are generally used in kitchens, living rooms or conservatories to lead into a garden or patio area, and act as a more natural gateway to the outdoors. This is due to the doors primarily consisting of large glass panels which is set in a number of oak, aluminium or UPVC frames.
How do External Bifold Doors Work?
In the simplest terms possible, bifolding doors are referred to as such because of the way they fold in on themselves. They use a simple tracking system, which can either be bottom hung or top hung. Top hung systems might be more desirable because they are less prone to being clogged with debris, though they also require a greater structural integrity in order to function properly. There are also configurations with both top and bottom tracks. In all cases, the doors, which generally come in pairs and either fold to one side or part in the middle and fold to both sides, glide along the system with the help of a series of wheels. The doors themselves are connected with hinges and attached to the top or bottom track and are operated when you pull open or close the main traffic door, which pulls all the other doors along with it. They are generally perceived as being smoother and more secure than sliding doors, because of the three point locking systems available and the increased sturdiness of the doors themselves.
Benefits of External Bifold Doors
Whilst this will depend very much on your garden (or patio area), the main benefit of an external bifolding door setup is the view it will give those sitting inside. If you've spent hundreds of pounds and hours prettying up your garden, then surely you want to actually spend time admiring it? This is easier said than done in Britain, where the winters are long and harsh and the summers are lukewarm at best. It's something of a cliché, perhaps, to say that bifolding doors really "bring the outside in".  The other major advantage, that is often overlooked, is the increased security offered by decent bifolding doors. It's a sad fact that most home invaders will access your home from the rear, so it's paramount that any rear entrance to your home is as secure as possible. External bifold doors can be fitted with a multi-point locking system and reinforced glass, so they are much more difficult to break into than other doors. The flexibility is also a big bonus, as they are manufactured in various sizes and can even be built to a bespoke size. They are  also easy to clean, especially UPVC and aluminium doors. Finally, bifolding doors can be installed flush with your floor, which means less chance of tripping, so they are great for families with small children and accident prone adults!
Thermal Efficiency and Security
It's understandable that you might assume exterior bifold doors might let in a little more of the cold than their more conventional brethren, but as long as they are fitted well, and are flush with the frame, they can provide the best of both worlds. An easy way to let the air in on a hot day, and enough protection from the cold on a winter's night. Double glazing is a given in most modern bifold doors, but you might want to take it a step further and install extra energy efficient glass. Also, remember that the larger surface area of glass means that, as long as you leave the curtains or drapes open during the day, you're home will capture more of the sun, which will leave it toasty once the sun sets.
Finally…
External bifold doors are gorgeous, but you won't be able to fully appreciate them until you've lived with them for a few months and had an opportunity to really soak in the benefits. As such, we recommend talking to any friends or relatives who already have a set installed is you're having second thoughts. We are almost certain they'll have nothing but positive things to report!