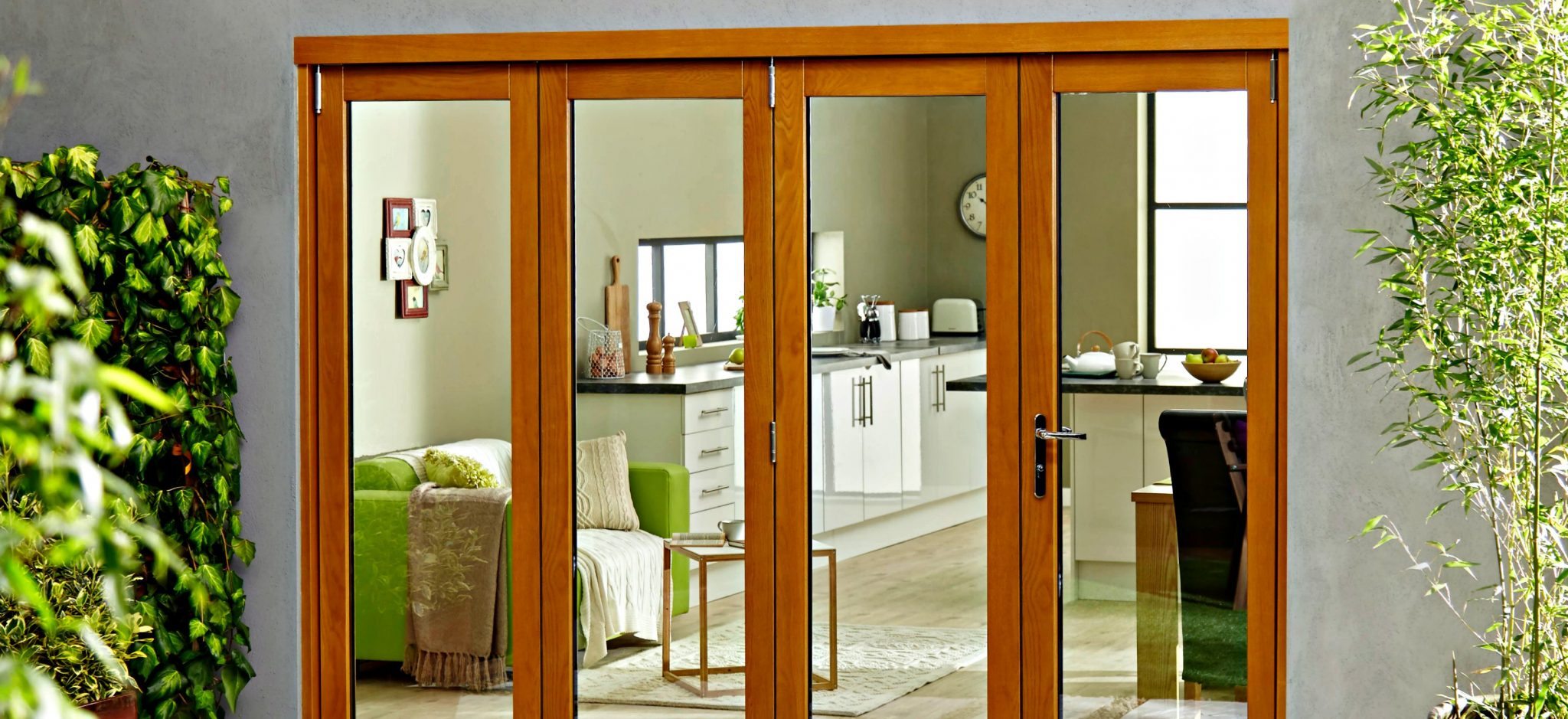 A Guide to Buying External Folding Doors
External bifold doors are an attractive investment that many homeowners are now updating their homes with. If you want to seek the benefits of these stunning doors then read our buyer's guide below to help you choose the right doors for your home.
What Material Should I Choose for My External Bifold Doors?
Here, we'll discuss the various materials available regarding your exterior bifolding door frames.
Aluminium External Bifold Doors
A material that is often overlooked outside of commercial property applications, aluminium external bi-fold doors are becoming increasing popular for a number of reasons. . The slimmer sight-lines are a distinct advantage, as is the fact that they will never require repainting. They can also be made wider than wooden frames, so you could theoretically fill a larger space with less doors, potentially saving a pretty penny.
Wood External Bifold Doors
Perhaps the most popular choice, wood, especially timber, is a very popular option. Remember that there are many different types of wood, with oak being perhaps the most common wood in the UK. However, in general, engineered hardwood timbers are the most desirable. This is a sort of 'best of' wood, which has been engineered from a variety of different woods to offer the best stability and durability. Softwood options are also available, and are generally more affordable, but can be prone to warping over time when exposed to a lot of heat and/or moisture. Wooden bifolding doors will also require regular painting or varnishing, but they also generally provide the best thermal insulation.
UPVC External Bifold Doors
If you're on a budget, but still want all the benefits of external bifolding doors, UPVC (Unplasticised Polyvinyl Chloride) could be an option. Not only is UPVC cheaper than the other two major options, but it generally requires less maintenance. The flip-side of this is that UPVC bi-fold doors generally won't hold their good looks as long as wood or aluminium frames, with weathering often taking its toll in the shape of yellowing and/or warping. The fact that the material doesn't fare wonderfully when exposed to the elements means that it's generally more popular when used on internal bifold doors than exterior bi-fold doors, but that's not to say they are a terrible option. Just be aware of the risks.
Glazing Options
Any large expanse of glass will obviously mean potential heat loss, so you will need to think carefully before making your decision. You'll very rarely find companies offering single glazed exterior bifolding doors as they are simply not viable. All new and replacement windows must achieve a minimum U value of 1.6, but you can often pay for upgrades from the standard glazing offered, therefore reducing U values even further. Standard double glazing is commonly 24mm or 28mm thick with a coating to further improve energy efficiency. It's also generally toughened or laminated safety glass, which is not only more secure from potential intruders, but is significantly more efficient from a thermal perspective. Triple glazing is also an option, though unless you live in a particularly harsh environment, it's generally not recommended. Remember also that the glazing you choose, or at least the glazing options available to you, will depend on the frames you've decided on (see above). There's also the option of bevelled or frosted glass to consider, though chances are you've decided on exterior bifolding doors based on the natural light they bring into the home, so these circumstances will be rare.
Thermal Efficiency
The term you're going to want to pay attention to here is the "U-Value." This is calculated by measuring the rate with which heat is transferred through a structure and dividing it by the difference in temperature throughout your home. Simply put, the better insulated a home is, the lower the U-Value, and the U-Value on the glazing on your exterior bifolding doors will have a dramatic impact on your home's thermal efficiency. It's not just the glazing that has an impact of course either, as it will also depend on whether the doors are fitted well. The frame material will also have an impact, so you're going to want to decide early on whether you care more about your home's energy efficiency or the sight-lines in your frame, as, generally, larger frames will result in a better U-Value. It's not only thermal efficiency you'll want to consider either, as moisture will also get in if your external bi-folding doors are not properly secured. The threshold should always be properly weather tested with a weather-tight seal, though this will depend very much on the installation job.
What Size External Bifold Doors Can I Get?
Whilst the height of your exterior bifold doors will generally be uniform at between 2090mm and 2100mm, the width of the frames and glass panels will depend on the manufacturer and the material. Aluminium doors can go wider whilst wooden doors can so taller.
How Much Do They Cost?
Obviously, this will be rather vague as the prices can vary drastically depending on the manufacturer and the materials used. However, for a full set of exterior bifolding doors you'll be looking at between £1,000 and £8,000 depending on the size of the opening you need filling and the materials used. For a standard height door, you should expect to pay around £1,200 per linear metre of overall frame width for a good decent installation. Remember that you'll also have to factor in VAT and the cost of installation and delivery so, for a generic three panel door, considering all costs, you should be looking to pay at least £4000.
What's the Best Operating System?
There are two choices here referring to the way the doors themselves are supported, both of which will be covered below. In both cases, systems hinged directly onto the door jamb have restricted adjustment, so the most adaptable systems have pivoted end doors.
Top Hung
This means the doors are supported by a tracking system from above, which means that the bulk of the system is concealed. Also, as it's above rather than below, you're less likely to trap dirt and leaves in it. By their very nature though, you'll need a stronger lintel or beam in order to support the weight of the doors, so you might want to check the structural integrity of your home before you decide to go with a top hung configuration. In general, of course, bi-fold doors require a stronger hardware system than either sliding doors or conventional hinged doors due to all the moving parts and the loads enforced upon them.
Bottom Rolling
This means the tracking system is installed underneath your bifolding doors, and is generally the more affordable choice. It's also the wiser choice if your doors are particularly heavy and you're not 100% confident regarding the structural integrity of your home. When going with a bottom rolling system you'll want to make sure you check that the wheels run in flat tracks and with very little resistance. You'll also need to keep the tracks clear, as, especially if your doors are facing your garden, there's the very real possibility of getting debris caught in the system.
Finally…
We've only scratched the surface here, but we hope you've managed to absorb enough wisdom to make your own informed decisions regarding what to look for when shopping for your own external bifolding doors. Ultimately, the manufacturers should be able to help you with any more pressing questions you might have, but at least now you should know what to look for and whether you're being steered in the wrong direction.