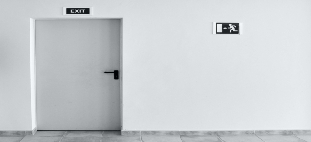 Are external doors the same as fire doors?
When choosing an external door for your home, there are many safety considerations to take into account. We know the importance of a good set of locks to keep our home secure, but it's not the only safety feature we need to factor in when deciding if our external door is safe enough.
What is a fire door?
The main purpose of a fire door is to contain outbreaks of fire and stop the fire from spreading. This ensures you have time to safely escape from the point of danger. Doors that can be used as fire doors must have proper certification which proves the door model has been tested and approved by a registered fire testing centre.
One of the most common ratings is the FD certification given by the British Woodworking Federation. They give ratings based on how long your fire door is guaranteed to stop the spread of smoke and fire when closed.
The most common fire door ratings are:
FD30 which stops the spread of fire and smoke for thirty minutes
FD60 which stop the spread of fire and smoke for sixty minutes
FD90 which stop the spread of fire and smoke for ninety minutes
FD120 which stop the spread of fire and smoke for one hundred and twenty minutes
For domestic properties, FD30 is the most commonly used fire door rating.
Are external doors fire doors rated?
Because of their sturdy nature, it's sometimes assumed that all external doors are suitable for use as fire doors. However, the majority of external fire doors are not fire-resistant so it's important to make sure your external door specifies it can be used as a fire door.
To make it easier when choosing an external door with Doors & More, you can filter by fire resistance to find FD30 rated fire doors, such as the GRP White Colonial 6 panel.
Do external doors need to be fire-rated?
There are occasions where an external fire door is required to keep in line with building regulations. If your external door shares a communal space, for example, a hallway or lobby in an apartment building, then you do require a fire door. This is because the fire could spread across the communal area and into other areas.
One important thing to note is that in commercial and multi-occupancy buildings, the fire-rated door must match the buildings own fire resistance. For example, if the walls and stairwell of a block of flats are designed to resist fire for thirty minutes, the fire doors must also resist fire doors for a minimum of thirty minutes.
In a house that doesn't share communal areas, it's likely you won't need to install an external fire door. Instead, your external door will be classed as a final exit door. In this case, fire doors are a safety-conscious choice. Many people still choose to install an external fire door as it limits fire spreading to areas such as gardens. If the fire spreads to gardens, it can cause a lot of damage to external furniture, wildlife and plants. In worst case scenarios, it can even continue to spread along fences into other properties.
What's the difference between a fire door and a fire exit?
A fire door and a fire exit are both designed to help you in the unfortunate case of a fire, but the way they do this is very different. They shouldn't be used interchangeably and you'll need to consider whether you need a fire door or a fire exit door.
What is the purpose of a fire door?
A fire door is designed to compartmentalise a fire by stopping the spread of flame and smoke to other areas of a building. For example, external fire doors are used in flats to stop the spread of fire, and internal fire doors are used in rooms that lead to hallways. By stopping the spread of fire and smoke, it helps create an easy escape route through the building.
For a door to be classified as a fire door, the model of the door must have been appropriately tested and given official accreditation by a governing body like the British Woodworking Federation.
In daily use, fire doors will function in the exact same way as any external door and can be easily opened from both sides, unless locked. They can still have glazing and be painted just like a regular external door.
What is the purpose of a fire exit door?
A fire exit door isn't designed to stop the spread of fire, it's designed to allow for a quick exit outside of the building to a place of safety. Rather than a traditional door handle or doorknob, fire exit doors use a panic or push bar. This allows the push bar to be pushed and allows you to walk through in a single motion.
From the outside, fire exit doors can only be opened from the outside if a key lock override has been installed. In this case, they can only be opened with the key from the outside and won't have an external handle. Fire exit doors are most commonly used in commercial properties, such as warehouses, offices and apartment buildings.
Fire exit doors are also often fitted with illuminated lights identifying them as fire exits so they can be easily found in power cuts and stressful situations.
Unlike fire doors, fire exit doors do not need to be fire-rated because they're not designed to stop the spread of fire. Some fire-exit doors can be fire-rated, but it isn't a requirement.
Can external fire doors be left open?
External fire doors shouldn't be propped open. In the case of a fire, the door wedge is an extra barrier to quickly closing the door and containing the fire. If it is important to you that you can leave your external fire door open, you would need to find an appropriate fire door retainer. These are magnetic devices that are placed on a wall and a separate device is then placed on your door. This will hold the door open, but in the event that your fire detector alarm goes off the magnet will disconnect allowing the door to swing closed.
In general, we would not recommend leaving any external door open as it is a safety risk.