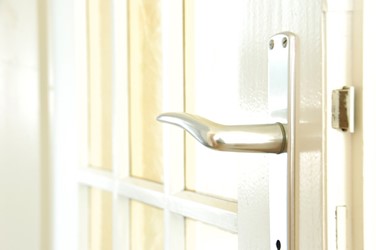 Which door handles to choose: A buyers guide
Believe it or not but you don't have to swap out your entire door to make a difference.
Just swapping out the handles for something new can make a considerable difference, especially if you're using standout materials that contrast with the colour of your door.
Since door hardware doesn't tend to last as long as the door itself, it's a simple and popular method to spruce up your rooms without costing the earth.
In this guide, we'll cover everything you need to know to purchase the right handle for your needs. We'll cover everything from the style, materials, finishes and more.
Are door handles universal?
You may not have noticed it until now, but door handles are either left-handed or right-handed.
Door handles have to be positioned on the opposite side to the hinges, therefore, if your door hinges are to the left of the door, you'll need left-handed handles and vice versa.
Are door lever handles all standard size?
Not quite, although there are common sizes (44mm / 57mm / 82mm / 107mm / 130mm) and you'll still need to know what size your current door handles are if you want to do a like-for-like swap.
We've created a helpful guide on installing new door handles that you may find useful when you're ready to install your new lever handles.
Are doorknobs all standard size?
There are a couple of standard sizes that doorknobs come in, these are 2 3/8 inches and 2 3/4 inches in diameter. These will fit onto doors that are between 1 3/8- 1 3/4 inches thick.
Are door handles sold in pairs?
Yes, all door handles are sold in pairs. More than that, door handle packs should also come with screw fixings and spindles.
All of the handle packs sold on the Doors and More website will specify precisely what is included in each pack.
What are the different types of door handles?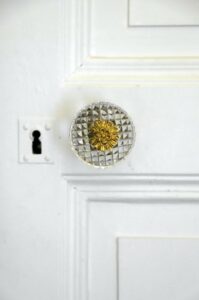 When you begin shopping for new exterior or interior door handles, you'll be surprised by how many different options are available, and that's before we even begin to think about the different colours and finishes there are to choose from.
To help you get started, here is a summary of common handles (also referred to as door hardware or door furniture):
Doorknobs
Used: Internally and externally.
Doorknobs are round in shape and, rather than pulling downwards as you would a lever, you have to twist the doorknob to open the door.
These don't come with locks attached, however, you can install one separately if being used for a bathroom or as a front or back door.
Flush pull handles
Used: Internally.
These are commonly used on sliding doors, so work exceptionally well as handles for patio doors.
The styles for this can vary from rectangles, circles, squares or even finger pulls.
Lever lock
Used: Internally and externally.
This is a door handle where you pull down on the lever to open the door.
Lever locks come with locks as one, making them a great option to use either for your bathroom or as your front and back door handles.
Lever on backplate
Used: Internally.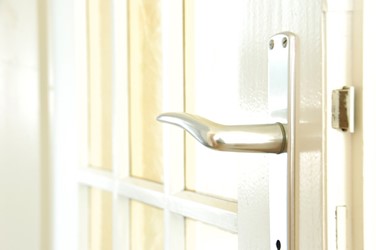 These are most commonly used in bathrooms, as such, they are available as standard or with a lock.
The backplate allows for these to be designed in various styles, from traditional curves to more modern straight lines.
Lever on rose handles
Used: Internally.
'Rose' refers to the small circular base from which a door lever stems. Although traditionally round, there are options where the rose is square.
Similar to doorknobs, these aren't typically available with locks, therefore, if you're hoping to use this style on a bathroom door, a lock will have to be purchased and installed separately.
Pull handle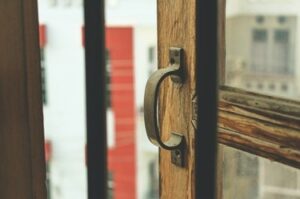 Used: Internally and externally.
These are a great option for bifold doors, for example. You can also use them aesthetically for your front or internal doors rather than a more traditional lever or knob.
Privacy doorknobs
Used: Internally.
These are pretty much the same thing as the knobs mentioned earlier on in this piece, except that they come with locks so can be used on bathroom doors, for example.
Generally speaking, external and internal door handles tend to be variations of either levers or knobs.
Once you know what type of door furniture you'd like to buy, your next choice will be around finishes.
Types of door handle finishes
The types of finish you opt for will most likely be due to the aesthetics and how your door handles can complement your home's interior design and the exterior of your property.
Here's a quick rundown of some of the most common options and the advantages of choosing each:
Aluminium
These are a great choice if you have an ultra-modern, industrial interior decor.
These are a darker metallic colour than say, stainless steel. If you love the idea but want something slightly softer, you could opt for brushed aluminium.
Black
Although black is very on-trend at the moment when it comes to contemporary handles (and even kitchen and bathroom fixtures), it is timeless, so you won't have to worry about it going out of style.
The great thing about black door handles is that it perfectly complements both traditional and modern designs.
Brass
There is a range of hues available for brand handles, including:
Brass is a long-lasting metal, making it a great option as a door handle, which has an average life cycle of seven to ten years. These go great with traditional decors.
Bronze
Have you ever built up static when walking across a carpet and felt a mild shock when you touch something? Well, that won't be a problem when you install bronze door hardware.
Another advantage is that bronze doesn't absorb the cold like other metals, making it a great option for an exterior door.
Chrome
When opting for chrome door handles, you don't have as many options as brass. Instead, you only have to choose between:
However, the way the light reflects off chrome makes it a popular choice.
Both options are low maintenance, but satin chrome finishes won't show fingermarks as much.
Nickel
Just as with chrome, there are two options to choose from when you choose a nickel finish:
The satin finish gives it a grey-honey tone, making it a great option for both modern and traditional decor.
Polished nickel, on the other hand, has more of a golden hue to it.
Stainless steel
Stainless steel is another fantastic option for either front or back doors as they are long-lasting, corrosion-resistant and are considered to be a hygienic option as they can withstand disinfectants.
When polished up it shines really well, too.
How do I know what door handle to buy?
There are three checks that we recommend all of our customers make when shopping for the right door furniture. Colours, finishes and the overall style, while important, can come after you've considered the following:
1) Where is the door handle going to be located?
Earlier in this piece, we alluded to which types of hardware is best suited to internal and external doors.
If you're shopping for something for your front door, you'll need something durable, like a stainless steel door handle, for example.
Perhaps you're looking to replace the handles on your French door, it's vital that you check the function of your handles and match it to the door you'll be installing it on.
The hardware inside your home doesn't have to be as durable or come with locks, so the options here can be more varied.
However, it may be helpful to consider how much use they will get. Doors that will rarely be used, such as in a spare room, don't have to be as hardwearing as, say a bathroom or kitchen handle.
2) Left or right-handed?
Again, as we mentioned earlier, you'll need to know whether you need to invest in left or right-handed handles.
Some products can be used as either, whereas others will specifically state which side of the door it's designed for.
3) Do you need a backplate?
While you may want something that's the complete opposite of your old hardware, you'll need to consider how much time and effort you want to put into fitting them.
If your original door handle had a backplate, it will be easiest to purchase something with a similar size and shape backplate too.
Otherwise, you'll have to deal with scuff marks and fill any additional holes that will be exposed without a backplate.
The choice is ultimately up to you.
From here, you can move on to selecting a precise model in the colour and finish to suit the room it will be installed in.
Can I paint my door handles?
You most certainly can. It may be that you've found a handle that you love but the colour and finish don't match your space. Simply prime and spray your door lever or knob in your desired colour and leave to dry for approximately 24 hours.
If you're sprucing up your old hardware, we recommend wedging your doors while you temporarily removed the handles so that the door won't close and trap you in or out.
Buy your new door handles from Doors and More
Whether you're shopping for new handles for your front doors, French doors, patio doors or interior doors, there's a wide selection to choose from at great prices when you shop with us.
Feel free to browse our selection or get in touch if you have any questions at all.