12 Weird & Creepy Christmas Superstitions from Around the World
Christmas time is supposed to be a joyous occasion, with families coming together to celebrate the baby Jesus and enjoy each other's company, sharing gifts and getting festively plump on all the lovely foodie treats available.
That's how it largely is these days anyway, but over the centuries, Christmas has grown in different ways depending on where in the world it is you're celebrating. Most of the Christmas traditions we have today are deeply rooted in ancient beliefs, many of which are based on superstition.
Nowadays, we're less likely to let our superstitions dictate what we do, but that's not to say some of these Christmas superstitions haven't carried on through the ages.
Here, we take a look at 12 of our most favourite weird and creepy Christmas superstitions from around the world, and how they've manifested themselves in today's celebrations.
Poland
Polish superstition warns that any child born during the twelve days of Christmas could be a werewolf, or other half-human half-demon hybrid. Should this happen, the only possible cure is to draw blood from the infant's brow.
This superstition isn't completely unique to Poland though. A number of other European countries also believe that babies born at Christmas will turn into werewolves, too. One has to wonder what happened on continental Europe for this superstition to take such a hold…
America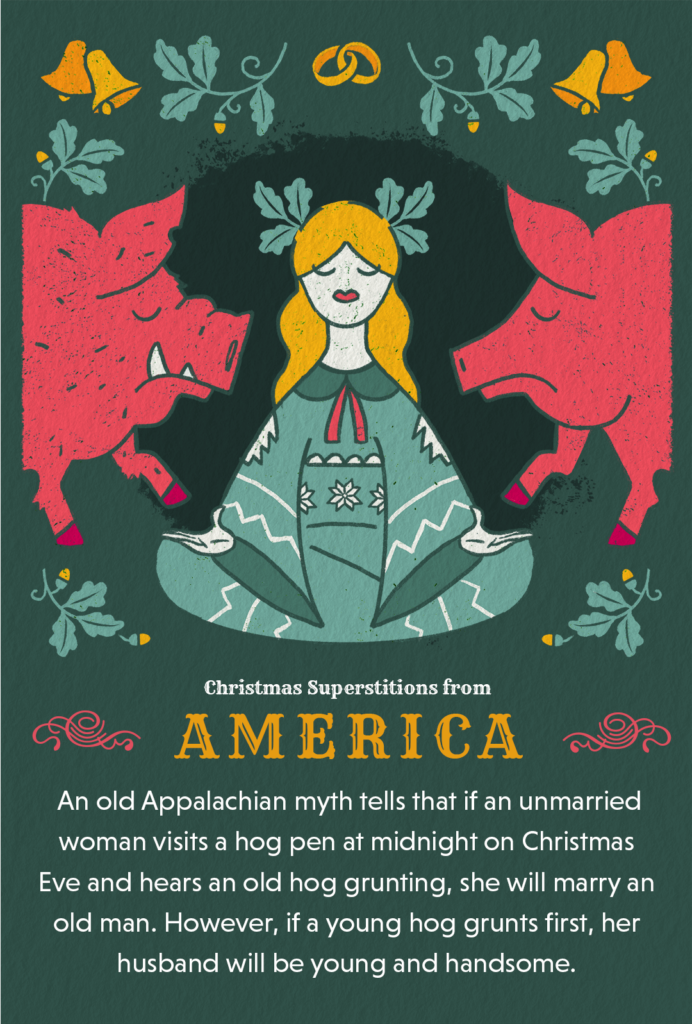 There are a few Christmas superstitions that relate to marriage and finding the love of your life, but this one wins out for us.
An old Appalachian myth tells us that if an unmarried woman visits a hog pen at midnight on Christmas Eve and hears an old hog grunting, she will marry an old man. However, if a young hog grunts first, her husband will be young and handsome. Aahhh, love.
Greece
When you think of Christmas smells, you probably don't think of burning shoes. But in Greece, old shoes are ritualistically burned at Christmas time. It is believed that the foul smell will drive the Christmas goblins, known locally as "Kallikantzaroi", away from your home.
It seems that Greek people might have a thing for shoes at Christmas. They also believe that it's a bad idea to give shoes as a gift during the festive period, otherwise you risk that person walking out of your life in the future.
Latvia
One ancient superstition associated with Latvian Christmas is the dragging of the Yule log around the house.
After chopping it down and dragging the Yule log through the forest to your house and then around your home, it's then burned in honour of the sun god, Mithras. The hope was that it would encourage the dark days to disappear and the sun to return the following year.
Fun fact: The word Yule itself means wheel, the wheel being a pagan symbol for the sun.
Czechia/Czech Republic
While many in western Europe favour meat or poultry as the centrepiece of their Christmas dinner, in Eastern Europe, carp is more commonly served.
A superstitious host in the Czech Republic might place a single scale from the fish beneath a guest's plate, believing it will bring about prosperity and remind them of the generosity of the season.
Philippines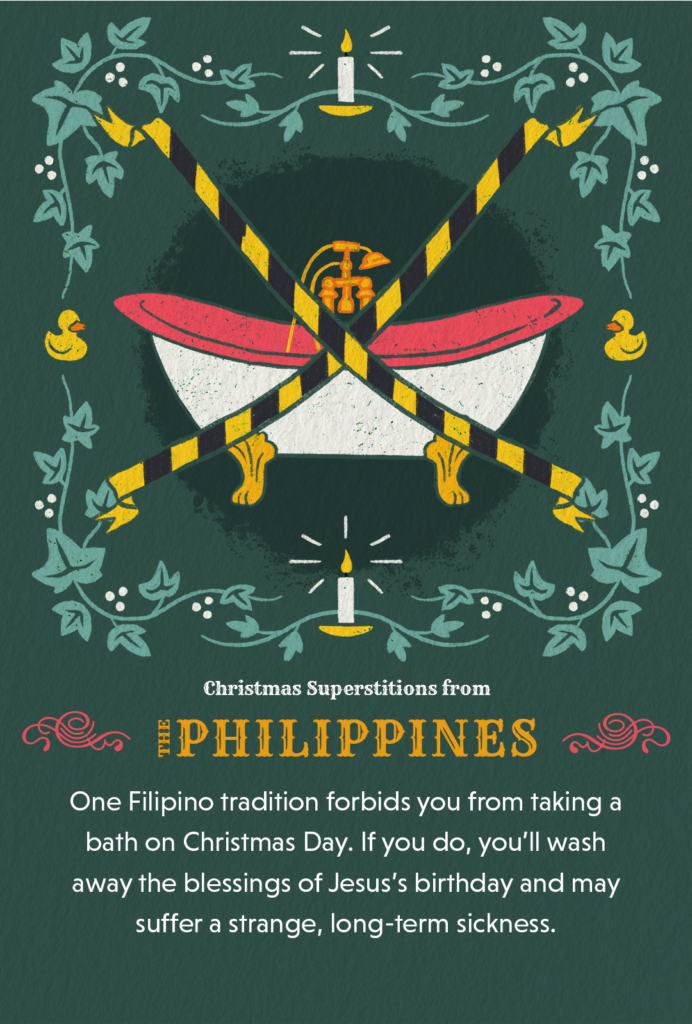 The Philippines has a large Christian population and celebrations begin very early by comparison to the rest of the world, with many getting into the swing of things from September 1st. With that, comes many traditions and Christmas superstitions that have been passed down through the generations. 
One such Filipino Christmas superstition forbids you from taking a bath on Christmas Day. If you do, it's suggested you'll wash away the blessings of Jesus's birthday and may suffer a strange, long-term sickness.
Serbia
This one might just be our favourite. In Serbian Christmas traditions, the twelve days of Christmas were previously called the "unbaptized days" and they were considered a time when demonic forces of all kinds would be more active and dangerous than usual.
If one of these demons (known as karakondžula) was to find someone outdoors at night during this period, it would jump on their back and demand to be carried wherever it desires.
The demon would then only release its victim when a cockerel crows at dawn. Where do you even begin to unpick the origins of this Christmas superstition?
England
At one point in time, if you were to join an English family on the last Sunday before Advent, you'd probably be expected to help prepare the Christmas pudding.
However, superstition dictates that there's a very particular way of doing it. You must be sure to stir from east to west, to echo the journey of the Wise Men as they travelled to see Jesus. If you do this, you'll be gifted with good luck and a wish for the coming year.
Portugal
Family is a big deal in Portuguese tradition and even more so over the festive period. So much so, that during the traditional Portuguese Christmas feast, extra places will often be set at the dining table for deceased relatives.
As well as remembering absent family members, it's thought to ensure good luck and prosperity for the household in the coming new year.
Ukraine
Ever wondered where tinsel came from? Why do we decorate our Christmas trees in this glittery, fluffy-looking stuff? Turns out it might be because of this rather creepy tradition from Ukraine.
It's believed that if a spider's web is found in the tree on Christmas morning, it will bring good luck to the house and those that live in it. Over time, Ukrainians have taken to hanging small tree ornaments in the shape of spiders along with their webs to encourage good luck.
Guatemala
It's always nice to have a clean and tidy house in preparation for the festive period, but in Guatemala, cleanliness really is next to Godliness. Locals believe that the devil and other evil spirits live in the dark, dirty corners of your home.

Probably one of the most laborious Christmas superstitions, Guatemalans will go on a huge cleaning frenzy on the 7th December, where all of the rubbish and unwanted items accumulated from the previous year will be piled up outside the house.
Called La Quema del Diablo (or the 'Burning of the Devil'), an effigy of the devil is placed on top of the rubbish pile and set alight – burning all the bad away from the previous year and leaving a clean space for a new year to rise from the ashes.
Spain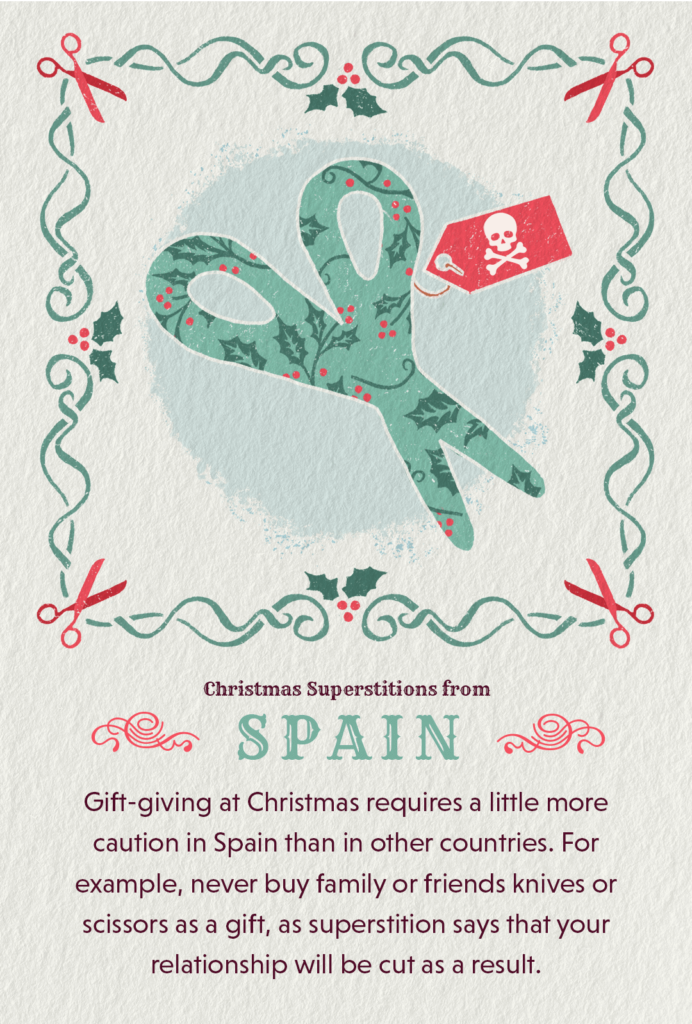 If you're buying a gift for someone you don't really like, then this Christmas superstition might work in your favour. However, if you're buying for someone you love, it's probably best to avoid anything with sharp edges.
In Spain, it's believed that if you buy your friends and family things like knives or scissors as Christmas gifts, your relationship will be cut. And you definitely don't want to wrap up their gifts in the colour yellow either, you'll be granting them a life of bad luck if you do.
I suppose that's one sure fire way to let people know what you think of them…
Merry Christmas!
You're more than welcome to use our illustrations for your own content, all we ask is that you credit Doors & More as the original source with a link back to this post.