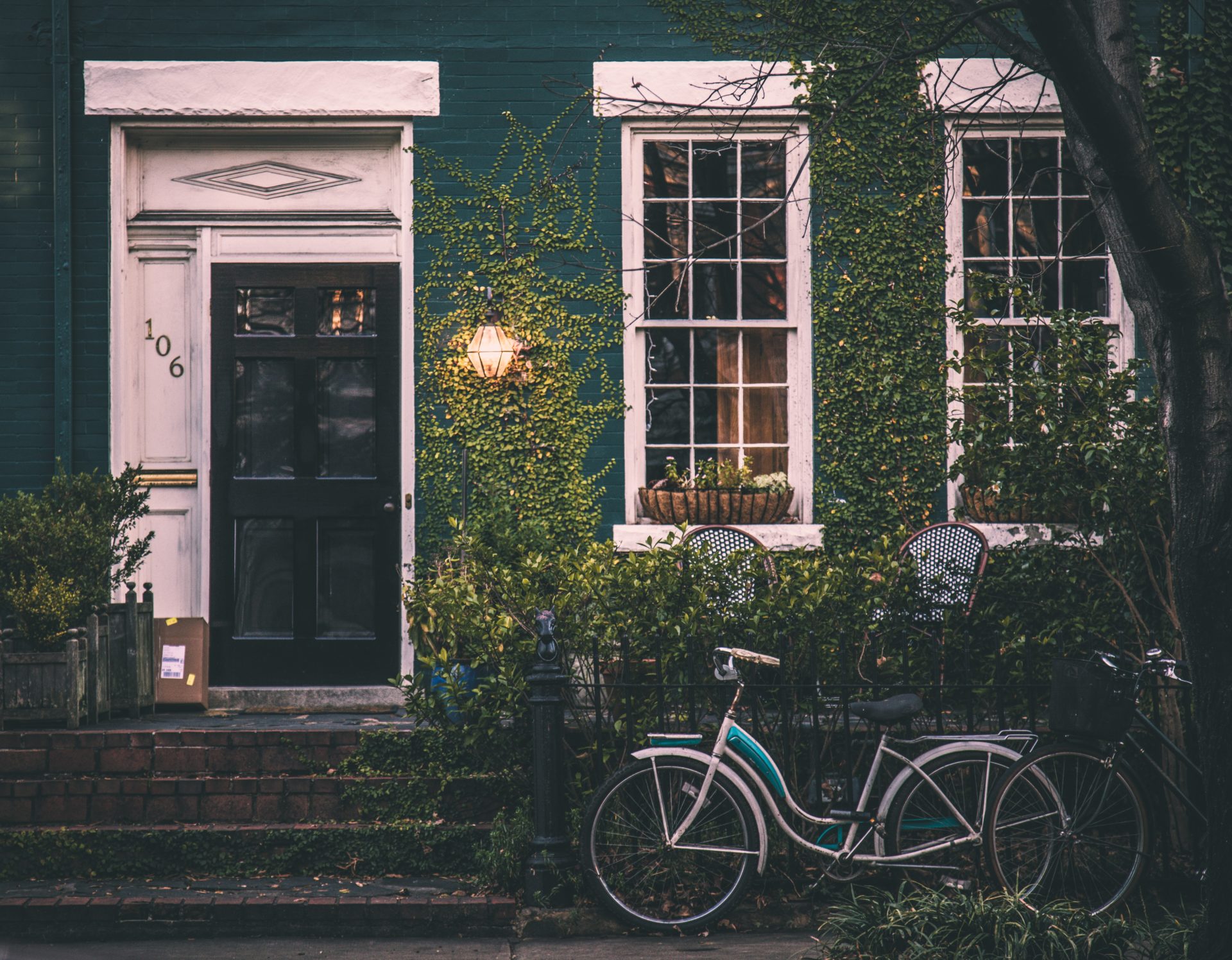 Welcome Home: Organising, Furnishing, and Cleaning Your Entryway
If you think about it, the entryway should be the happiest part of any home. This is the place where you shut out the mangy weather, the stresses of work and the demands of the world.  It should a place where tension releases.  Your hallway should be your safe space. This is you, home.
But, instead, it's usually the most overlooked part of any home. Cold, cramped, and dingy it's just the way in, and the way out. Unloved for something so used.
Isn't that really a shame? That's why this is post is dedicated to the humble entryway, hallway and foyer. It'll give you tips on how to decorate this space and how to keep it clean as well as functional entryway ideas to turn this underappreciated space into a key room in your home.
How to Organise Your Entryway
The enemy to any entryway is clutter. Guaranteed to make any house seem scruffy, a messy hallway will lower the opinion of anyone who enters – even you! Luckily the key to having a clean, clear entryway is as simple as having the right organisation and storage solutions.
These are our hallway furniture ideas to turn your entryway into a fully-functional part of your home.
1. Invest in a Shoe Rack
Yes, we're starting with the obvious, but with good reason. Scattered shoes don't just look bad, leave too many laying about and they will eventually cause a safety hazard!  Picking your way through an obstacle course of discarded footwear is a risky way to start the day. Not to mention the precious seconds stolen when you're searching for a matching pair.
Avoid all these issues with a simple shoe rack big enough to store the shoes of everyone you live with.
2. Add a Seating Area
Whether you're struggling with a tangle of laces or a particularly stubborn pair of wellies that have vacuum-sealed themselves on, you will find them a lot easier to remove when you're sat down.
Even a small, compact, stool can save your knees but if you've got the space, go for a full bench. Slim and stylish, this item also comes with a useful second function. The space underneath is perfect for stashing shoes to dirty to be stored without worrying that they will be kicked across the floor while they wait to be cleaned.
3. Give Your Keys a Proper Home
Keys are easily lost when you put them down in the first spot you see. Remembering if it was yesterday that you stashed them back in your bag or if it was your coat pocket is usually a task in itself, before you consider the time spent searching for them. Especially when you inexplicably dropped the kitchen junk drawer the night before.
Instead, just give your keys a hook to hang on or a dish to be tossed in right by the door and you will always know where they are the next morning.
All these entryway ideas will work for any house, whether you live on your own, with friends or with a family. But when it comes to houses with a full complement of kids, the task of keeping your entryway tidy gets about ten times harder. Here are a couple of extra entryway organiser ideas for family-filled homes, to help you keep your clutter under control:
Create Cubby Spaces
Small crates, baskets or boxes can be stuffed full of hats, gloves, even toys and spare socks, whilst still looking outwardly tidy. Just make sure you go through them regularly to harvest all those clothes or toys that mysteriously disappeared when you tried to confiscate them.

Label Your Coat Hooks, Cubbies, and Storage Spaces
Supplying these storage solutions is really only part of the battle – convincing your family to actually use them is the real victory. One way to tempt them is to personalise their spots: make it clear whose coat belongs where with a name tag. This can be as simple as a sticker, or for something more stylish add a tiny chalkboard and let them decorate their boards themselves.
How to Decorate Your Entryway
Keeping your entry a tidy, practical space, isn't really enough to make it a valued part of the home. It needs to be attractive, welcoming, and reflect the inhabitants just like any room. Here's our entryway decor ideas to help you craft something beautiful from your most functional room.
1. Hang a Mirror
It is all too easy for an entryway to feel cramped. Small and boxy, or long and thin, they usually have minimal windows and end up a bit dark, a bit dingy.
The simplest design trick to tackle this is mirrors. Their reflections will help the space feel much deeper, while they also harness and maximise any light in the hallway. This will help grow the space, as well as make it feel cleaner and more inviting.
2. Let in All The Light
In fact, do everything you can to increase the light. Keep your curtains lightweight or translucent to let in as much natural light as possible. If you can, invest in a door with plenty of glass panels. Wash all this glass regularly, to keep all that light-eating grime at bay.
Most hallways will have a harsh ceiling light which creates so many shadows that it swallows space. Consider adding a couple of softer light sources, such as lamps or wall lights, to fill the space with a warm, welcoming glow instead.
3. Pop in Some Plants
Another way to keep the entryway to a house feeling light, bright and fresh is to add some foliage. If you've got space for a table or a shelf, you've got space to put a couple of pot plants too, and this is one aspect of the outside world that will actually lift your insider space.
4. All in the Details
Pick hooks, shelves and seating that add as much design support as they do functional use. Scrollwork on a shelving brackets, patterned cushions for seating and even the colour, shape and design of hooks are all ways that you can add elements of extra design without giving up any space to pieces that don't serve any function.
5. Create a Focal Point
If you can afford the cost, and the space, an entryway will really benefit from a piece of statement furniture.
Whether it's a vintage seat, a custom-made cubby or an upcycled shabby-chic hall table, find one item that is as eye-catching as it is functional and you'll ensure that your entryway feels like a proper room and valued part of the house.
6. Don't Forget the Floor
Flooring is a design element that often gets overlooked. In an entryway, where space is at a premium and every inch counts, the floor is a perfect place to add identity and make an impact.
It's a hardworking space, probably the hardest in the house, so you definitely need something durable. Tiles or hardwood make fantastic hardwearing, water resistant and easy to clean floors.
If cost or taste rule out these options for you, then it's time to turn to a rug. Find one that's nice to look but, above all, is either easy to clean or easy to replace. This is not the spot for your favourite designer piece as it will wear too quickly. Attractive doesn't have to mean expensive, and this is the perfect place to prove it.
How Do I Keep My Entryway Clean?
Once you've made your entryway attractive and inviting, your last task is keeping it clean and tidy. Here are some ideas to help you maintain your carefully crafted welcome space.
1. Have a Hardwearing Welcome Mat
In this instance, think function over style. You need something that will take plenty of punishment, absorb water and catch any stubborn mud that wants to cling to shoes. Rough, tough coconut matting or something similar is great because: it won't just rub off dirt but it will hold on to it.
2. Get Yourself a Boot Tray
If you like the great outdoors (or your household does) dedicate a space for particularly muddy, damp, dirty footwear. Pick something waterproof, with raised sides to contain any debris and stop it being scattered across the floor.
3. Limit What You Store There
No matter how many storage solutions you implement, space in your possibly-tiny and probably-small entryway is still going to be at a premium. Don't waste it on things that barely get used, like dress shoes. Find a bigger cupboard, closet or corner to keep them and make sure they get put away after every use.
Do you have any top tips for keeping your entryway clean, organised, and welcoming? We'd love to hear from you!